Bernardino Muñiz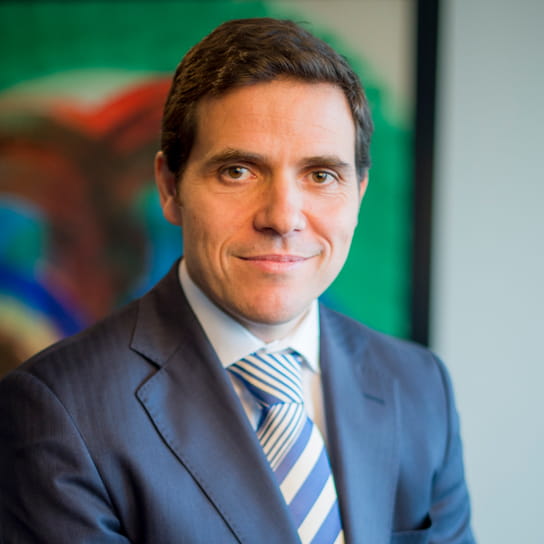 Idiomas
Inglés, Francés, Italiano, Alemán, Español
Practice Group
Litigation
Bernardino está especializado en litigación relacionada con productos financieros. Asesora a bancos e instituciones financieras tanto con productos sencillos (plain vanilla) como exóticos y, en particular, swaps, collars, KIKOs, bonos estructurados, participaciones preferentes, etc.

También posee amplia experiencia en procedimientos de reestructuración empresarial entre los que se incluyen refinanciaciones, recuperaciones judiciales e hipotecarias y concursos de acreedores.
La experiencia concursal de Bernardino también incluye la actuación como letrado instante del concurso o como representante de acreedores significativos en multitud de procedimientos de insolvencia, incluyendo una buena parte de los concursos más importantes instados en España (Martinsa-Fadesa, Real Sociedad SAD, Sacresa, La Seda de Barcelona, Miró, Grupo Blanco, Pescanova, Grupo Albatros, Fagor, etc.).
Es docente habitual en materia de insolvencia, litigación y oratoria forense en la Universidad Pontificia de Comillas ICADE, Universidad San Pablo CEU, Universidad Carlos III y Universidad de Navarra y es asesor externo del FMI en materia concursal.
Publica con frecuencia acerca de temas procesales y, en particular, en materia de Derecho concursal (Insol World, Eurofenix, etc.)
He is recognised for "being very detailed. He gives a deep analysis of the cases and the complications of the processes".
"He has very deep knowledge of insolvency matters".
2017
Ranked as Up & Coming in Restructuring & Insolvency
Chambers Europe
2017
Recommended Lawyer in Insolvency Law
Best Lawyers
2017
Recommended Lawyer in Litigation Law
Best Lawyers
2016
Ranked as Up & Coming in Restructuring & Insolvency
Chambers Europe
2016
Ranked as Up and Coming in Dispute Resolution
Chambers Europe
Enlaces más recientes y próximos eventos
Publicaciones de Hogan Lovells