Zaakirah Akram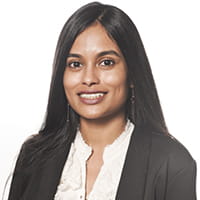 As a member of our corporate and commercial practice Zaakirah Akram focuses on mergers and acquisitions, black economic empowerment transactions, corporate governance, group restructuring, legal due diligence investigations, and labour law.
She has acted for various national and international clients in both the public and private sector, predominantly in the agricultural, construction and engineering, telecommunications and mining industries. Her previous experience includes commercial litigation, technology, media and telecommunications law, and projects and energy.
Representative experience
Advising a telecommunications company on various transactions arising from the Electronic Communications Act 2005, including PSTS, IECS and IECNS licences, and ICASA.
Advising a client operating in the mining and engineering industry in relation to a black economic empowerment transaction.
Advising a group of companies (in the business of hiring out of lighting, audio-visual, staging equipment) on various acquisitions and disposals of assets.
Advising a company in relation to the disposal of its assets.
Advising a group of companies engaged in management, engineering and development consultancy on various intra-group restructures.
Advising on the implementation of a technology based medical application for mobile phones and the distribution of such medical services to consumers.
Conducting investigations into the operations and people management of a service delivery entity and providing findings and recommendations thereon.
Latest thinking and events
Hogan Lovells Publications
Published Works
Without Prejudice