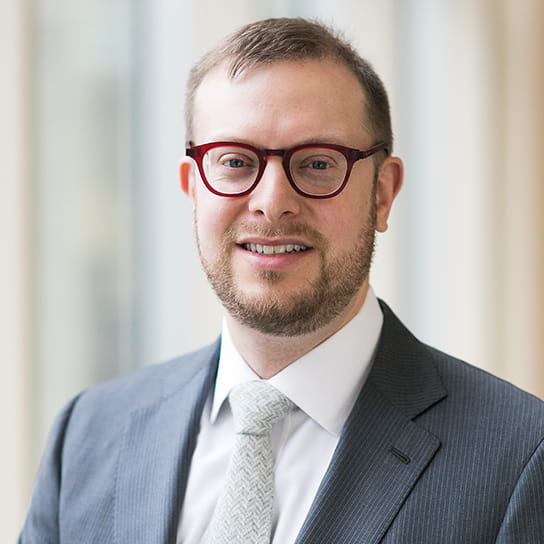 Adam Tope provides investment fund sponsors, investors, and principals with creative, commercial, and realistic advice throughout the fund formation life cycle. Adam brings a global perspective to his clients, having represented managers and investors in dozens of jurisdictions.
Adam's sponsor-side clients regularly include prominent private equity and hedge fund managers, real estate managers, middle-market managers, and start-up managers/spin-outs. Adam advises these clients with entity formation, introductions to service providers, discussions with placement agents, drafting of offering memorandums, negotiations with investors, assistance with Investment Advisers Act and Investment Company Act compliance, and ongoing operational fund advice. As a former computer programmer, Adam also brings unique insight and perspective to fund managers forming cryptofunds, investing in the blockchain, bitcoin and cryptocurrency spaces and working with Ethereum-based smart contracts.
Adam's investor-side clients include family offices, fund-of-funds, endowments, sovereign wealth funds, and royal families. Adam has represented these investors in hundreds of transactions in nearly every jurisdiction and in nearly every type of fund. These transactions include investments into private equity funds, hedge funds, venture capital funds, fund of funds, and hybrid funds. This work also includes representing investors in complicated secondary transactions, managed accounts, co-investments, funds of ones, joint ventures, and other bespoke alternatives transactions.
Adam also regularly represents fund principals with respect to the negotiation of their employment arrangements with funds. Adam has a deep understanding of how principal compensation is structured and can guide principals with the negotiation of vesting arrangements, key person/for cause removal rights, and rights to carried interest/promote.
Outside of the investment funds universe, Adam is a former serial entrepreneur, having served as the president and CEO of a technology incubator that was ranked as one of the 500 largest online companies. Adam brings his unique perspective as an entrepreneur to start-up clients and venture-backed organizations.
Awards and recognitions
2019
Investment Funds: Private Equity: Fund Formation (Nationwide), Recognized Practitioner
Chambers USA
2019
Private Funds: Formation
Who's Who in Legal
2014, 2018
Fund Formation
Legal 500
2019
Investment Fund Formation and Management: Private Equity Funds (including venture capital), Next Generation
Legal 500 US
Education and admissions
Education
J.D., Georgetown University Law Center, cum laude, 2007
B.S., Cornell University, 2002
Bar admissions and qualifications
New York
District of Columbia
Representative experience
Represented Five Point Energy in connection with its second US$750m midstream infrastructure fund.
Represent leading secondaries funds in connection with over US$2bn of tender offers, GP restructurings, and stapled secondaries in 2017/2018.
Represent an activist fund sponsor in the structuring, formation, and negotiation of a US$350m hybrid fund focused on public equities.
Represented a large multifamily real estate manager in connection with the formation and negotiation of a US$1.2bn multifamily fund.*
Represented a principal of a US$600m large venture capital holding company in connection with its structuring and formation.
Represent sovereign wealth funds in connection with co-investments and fund investments.
Represented an institutional investor in a secondary transaction resulting in the restructuring of a US$2bn portfolio of private equity investments.*
Represent a venture capital sponsor in the formation and operation of the world's first cryptocurrency fund of funds.
*Matter handled prior to joining Hogan Lovells.