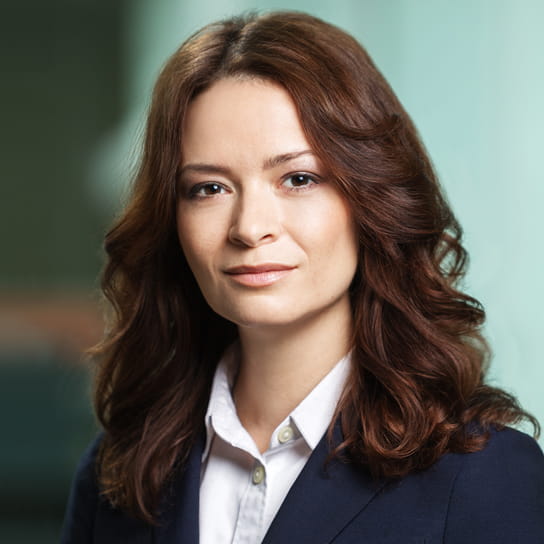 Svetlana Sorkina
Senior Associate, Moscow
Starting her career as a real estate associate, Svetlana Sorkina developed her knowledge not only in various aspects of real estate acquisitions and various lease structures but also in construction, environment, PPP and investment projects. Svetlana, a Russian-qualified senior associate, joined the Moscow office of Hogan Lovells in August 2014, due to the rapidly increasing number of cutting-edge challenging projects and clients of the PPP practice requiring high profile real estate advice for their projects.
She has a wide experience in Russian real estate law and possesses a unique skill set in the field of real estate and construction issues in connection with implementation of PPP and investment projects. She has successfully worked for more than 5 years in the Moscow office of an international law firm as a real estate and construction associate but took a challenge and joined a Russian consultant firm to strengthen PPP projects and Construction team and assist such clients as Russian State Company "Russian Highways" and Moscow Region Government. Apart from closing real estate deals, currently she is also actively involved into the PPP work of Moscow Infrastructure, Energy, Projects and Resources (IERP) practice led by partner Alexander Dolgov.
Given the diverse practice, Svetlana advises clients from different industry sectors and successfully helps companies focusing on technology, development, pharmaceutical, retail, hospitality and oil and gas perfectly complying with the clients' needs.
Education and admissions
Education
Law Degree, Moscow State Law Academy
LL.M., Durham University
Representative experience
Advising Russia's top 10 development company on acquisition of the Four Seasons hotel (former legendary Moskva hotel) at the Red Square
Advising CSL Behring AG on the large lease transaction with regard to 500 sqm office premises in Class A building in Moscow
Advising Google on the major lease transaction of 11,000 sqm office premises in Class A building in Moscow
Advising eBay Inc. on assignment of the existing sublease and new office sublease in Moscow and on the fit-out and construction contract