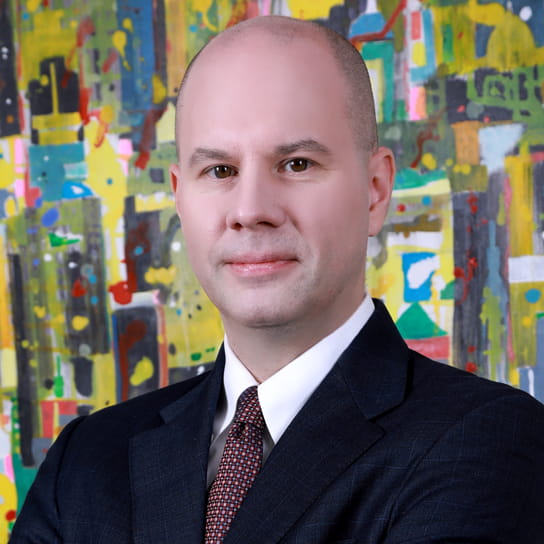 Larry Sussman is a partner in Hogan Lovells' Beijing office. Larry speaks Mandarin, is based in Beijing (since 1998), and has extensive experience doing business in China in multiple practice areas.
Larry's practice covers three main areas: China transactional work, tax structuring and disputes, and other China regulatory matters.
In the transactional area, Larry has represented clients in many "firsts" as they have entered the China market over time. As a result, his practice in the transactional area has evolved with the development of China, and each new matter/area often requires sophisticated problem-solving skills and experience. Historical "firsts" in formerly restricted and prohibited industry sectors for foreign investment in China that Larry advised on included joint ventures, M&A, and partnerships with respect to retail, basic telecommunications, value-added telecommunications, trade, semiconductors, e-commerce, real estate, onshore RMB private equity funds, outbound RMB private equity funds, and distressed investments and lending transactions. Current transactions Larry covers are those in the film and entertainment area for China, as detailed in Representative Experience.
In the tax structuring and disputes area, Larry is well-known in the market as one of few tax lawyers able to handle sophisticated cross-border structuring matters and their associated documentation, as well as the favorable settlement of various tax investigations in China. Larry regularly represents the most active international financial institutions in China with respect to their most sensitive tax matters.
In other China regulatory areas, Larry has led and helped resolve numerous crisis situations in China, including IP enforcement crisis matters, labor disruption matters, trapped cash pitfalls, regulator disagreements, and other difficulties involving various regulatory campaigns or abrupt shifts in governmental policy.
Awards and recognitions
2017-2018
Investment Funds - International Firms (China)
Chambers Asia-Pacific
2018
Tax: PRC Law - International Firms (China)
Chambers Asia-Pacific
2009-2013
Listed as a top global tax adviser
Tax Directors Handbook
2009-2013
Ranked a leading lawyer in China for Tax
Chambers Asia
2012
Described as "highly regarded in the international tax field"
International Tax Review
2013
Named as an expert in Corporate Tax
Who's Who Legal
2013
Ranked a leading lawyer in China for Investment Funds
Chambers Asia
2013
Recommended by Legal500 for Investment Funds and Tax practice in China
Legal500
2013
Named as a leading lawyer and tax expert in China
Asialaw Profiles
Education and admissions
Education
LL.M., New York University School of Law, 1997
J.D., New York University School of Law, 1995
B.B.A., Baruch College of the City University of New York, salutatorian, 1992
Memberships
New York State Bar Association, Tax Section
Committee on Foreign Activities of US Taxpayers and Committee on US Activities of Foreign Taxpayers
Bar admissions and qualifications
Solicitor of Hong Kong
New York
Representative experience
Advising various international private equity sponsors on the formation of over 30 RMB funds in China (including QFLPs and QDLPs), including for Warburg Pincus, Deutsche Bank, Oaktree Capital, CLSA, TPG, Goldman Sachs, and DE Shaw.
Advising Chinese private equity sponsors in connection with the structuring of offshore investment funds, including Citic Private Equity, Exim Bank, Primavera, and Qihoo 360.
Advising sovereign wealth funds on the structuring of offshore investments, including CIC, NSSF, SAFE, GIC, Temasek, CPPIB, and Sailing Capital.
Advising Goldman Sachs in connection with numerous investment related tax structuring matters concerning China.
Advising Bain Capital in connection with numerous investment, tax, and regulatory matters in China.
Advising Hillhouse Capital in connection with tax, regulatory, and other structuring matters in China.
Advising Warner Brothers in its formation as investor into an onshore film fund in China.
Advising Legendary East in connection with various co-productions, co-financing, and other film investment matters involving China Film Group and other parties.
Advising Imax corporation in its joint venture with China Media Capital and its related China film fund for the productions of blockbuster films.
Advising Alibaba and Alipictures in connection with various structuring and other matters in the entertainment industry.
Advising Marriott Vacation Club International in connection with time share real estate arrangements for the Chinese travel and leisure sector.
Advising a number of Chinese private equity backed strategic buyers in connection with diligence and bids on various US film and entertainment related assets.
Advising Norwegian cruise line operator in connection with its entry into the Chinese travel, leisure, and entertainment market.
Advising numerous multinationals in connection with greenfield and M&A transactions in China, including Hughes, Lockheed, Cisco, Broadcom, AMD, Honeywell, GE, General Mills, and Belkin.