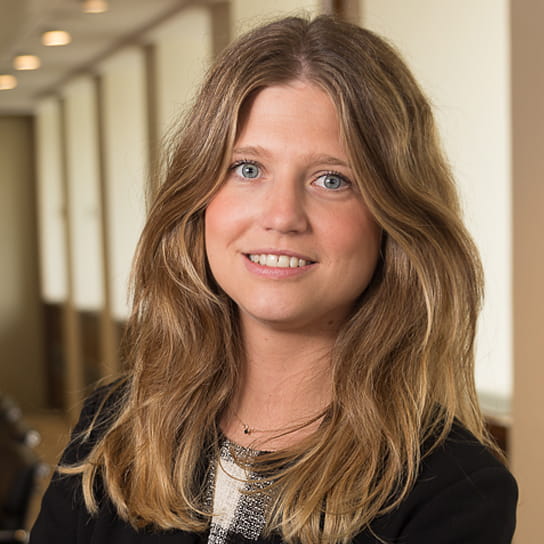 Patricia Suarez
Associate, Madrid
Patricia holds a Double Degree in Law and Business Administration from Universidad Pontificia de Comillas – ICADE, 2011-2012.
Patricia also holds a LLM in Business Law from the Instituto de Empresa – IE, 2014.
Patricia is member of the Colegio de Abogados de Madrid - Madrid Bar Association (ICAM) since 2011.
As an Associate in our Intellectual Property, Media and Technology (IPMT) Group, Patricia focuses her practice mainly on commercial IP and IT law, privacy, cybersecurity and copyright matters.
Patricia advises companies on matters concerning, copyright licensing and distribution, telecom regulations, e-commerce, electronic signatures, data protection issues as well as on issues related to the Internet, personal rights and advertising.
In addition, she brings experience in assisting local and international companies in different transactions during their outsourcing processes, drafting and reviewing TSA and SLA associated to the provision of IT services and negotiating their key legal terms and conditions.
Patricia has also advised multinational corporations in the design and implementation of global strategies regarding key intangible assets consisting in the management, optimization and strategy design of their assets.
Before joining Hogan Lovells, Patricia gained experience at two other international law firms.
Representative experience
Providing local and international entities with guidance on the fulfilment of regulatory and procedural data protection requirements on information, consent and notification, assignment of data, and the negotiation of data processing agreements
Advising a global financial entity on data protection issues regarding the use and sharing of personal data in order to ensure their compliance with the Spanish data protection regulations
Assisting local and international companies in connection with M&A transactions and related data protection and IPMT due diligence process.
Advising local and international entities in drafting and negotiating cross-border IT license agreements
Asesoramiento a compañías nacionales e internacionales en el cumplimiento de las obligaciones recogidas en la normativa española de protección de datos (entre otros, información; consentimiento; notificación de ficheros; cesiones de datos personales; negociación de acuerdos para la transferencia internacional de datos).
Asesoramiento a entidad financiera con presencia internacional en cuestiones relativas al tratamiento y flujo de datos de su titularidad, con el fin de asegurar su adecuación a la normativa española en materia de protección de datos de carácter personal.
Asesoramiento a clientes nacionales e internacionales en operaciones de M&A y en el proceso previo de due diligence en materia de protección de datos y IPMT
Asesoramiento a clientes nacionales e internacionales en la elaboración y negociación de contratos de licencia IT y prestación de servicios asociados