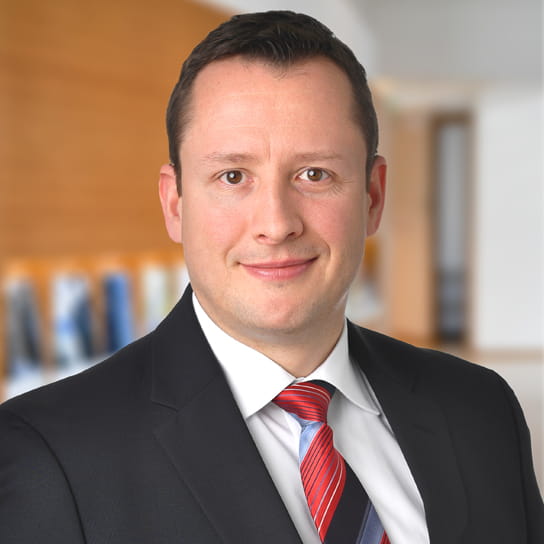 Stephan Neuhaus is a quadrilingual litigator whose adroitness in presenting strong lifesciences arguments is much-appreciated by those who rely on him in court.

IAM Patent 1000, 2019
Stephan Neuhaus focuses on all aspects of patent law. He has extensive experience in litigating patents for international and national clients, especially from the pharmaceutical and chemical industries and the life sciences as well as telecommunications sector.
Stephan coordinates parallel patent infringement and revocation proceedings in the major European countries. He conducts main action infringement proceedings, preliminary injunction proceedings and inspection proceedings at the German district and appellate courts as well as nullity actions at the German Federal Patent Court and the Federal Supreme Court. His strategic advice covers questions regarding the new Unified Patent Court and the European Patent with unitary effect.
Recognized as "a known quantity in the life sciences spheres" (IAM Patent 1000, 2020) and as "life sciences sage who has proved his mettle in a plethora of nullity actions before the Federal Patent Court and the Federal Court of Justice" (IAM Patent 1000, 2018), clients praise his "unbeatable rhetoric skills in court and great personality" (IP Stars 2017). They appreciate his "written submissions of top quality" and his "excellent all-round knowledge of law and business" (IP Stars, 2016).
Stephan studied law and economics in Bayreuth. He earned his Ph.D. in Law with a thesis on secondary liability in intellectual property and unfair competition law.
Awards and recognitions
2020-2021
Ranked Lawyer - Patent Litigation
Legal 500 - Germany
2020-2021
Listed in Best Lawyers Germany - Intellectual Property
Best Lawyers
2017-2020
Recommended lawyer for patent infringement – Bronze Band
IAM Patent 1000
2018-2020
Recommended Lawyer for Life Sciences and Patents
Expert Guides Rising Stars
2019-2020
Acritas Star
Acritas Stars Independently Rated Lawyers
2019
Rising Star - Intellectual Property
Legal Media Group - Europe Rising Stars Award
2018-2019
Listed as Rising Star
Managing Intellectual Property IP STARS
2019
Category winner Patents - Germany
Lawyer Monthly
Education and admissions
Education
Dr. iur., University of Bayreuth, 2010
University of Bayreuth, 2005
Memberships
German Association for the Protection of Intellectual Property (GRUR)
EPLAW
Bar admissions and qualifications
Dusseldorf
Representative experience
Representing Eli Lilly in numerous preliminary injunction, main action and nullity proceedings regarding its chemotherapy drug Alimta® including winning precedent setting appeal
Advising major Swiss pharmaceutical company on pan-European strategy and coordinating pan-European enforcement of patents against market entry of biosimilar products


Successfully protecting market of various major innovative pharmaceutical companies against illegal parallel importation from acceding Eastern European Member States
Acting in various revocation proceedings at the German Federal Patent Court and at the German Federal Supreme Court
Conducting inspection proceedings to gather information for infringement proceedings, specifically by inspecting specific sections of the pharmaceutical dossier
Defending clients from the chemical and from the automotive industries against patent infringement allegations
Advising various pharmaceutical innovators on strategy enforcing patents protecting biological drugs against biosimilar competition including coordinating cross-border proceedings