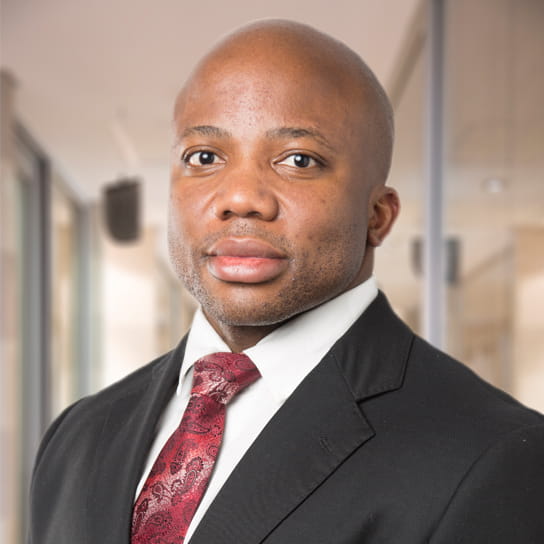 An accomplished M&A lawyer with experience in negotiating large-scale transactions, Sibongile Solombela focuses on corporate finance, including rights issues and capital raisings, takeovers, black economic empowerment (BEE) transactions, JSE listings requirements, as well as general company law advisory work.
Education and admissions
Education
M.B.A., Gordon Institute of Business Science, 2015
Advanced Certificate in Corporate Law & Securities Law, University of South Africa, 2008
LL.B., Rhodes University, 2004
B.Com., Rhodes University, (Economics and Law), 2002
Court admissions
South Africa
Representative experience
Member of the team that advised JSE and LSE-listed Lonmin Plc in respect of its US$457m rights offer.
Member of the team that advised FAAC S.p.A, a company domiciled in Italy, in its acquisition of Centurion Systems Proprietary Limited – transaction value ZAR600m.
Member of the team that advised Shell regarding its sale of a share of its refining business in South Africa to Thebe – transaction value: US$280m.
On the team that advised JSE and LSE-listed Lonmin on the acquisition by Shanduka Resources of the interests of the BEE shareholders of Incwala Resources.
Advised the De Beers Group on the restructuring of its employee share trust arrangements and the cashing out of employee participants over a 3-year period.
On the team that advised Kansai Paint Limited on its unsolicited ZAR2.4bn bid for JSE-listed Freeworld Coatings, the first successful hostile takeover in South Africa.
On the team that advised JSE-listed Sephaku Holdings on its ZAR12bn equity financing portion of the capital and debt raising transactions for a cement plant.
Advised JSE-listed Afrimat Limited in respect of the implementation of a BEE share scheme for the benefit of its employees and related JSE compliance.