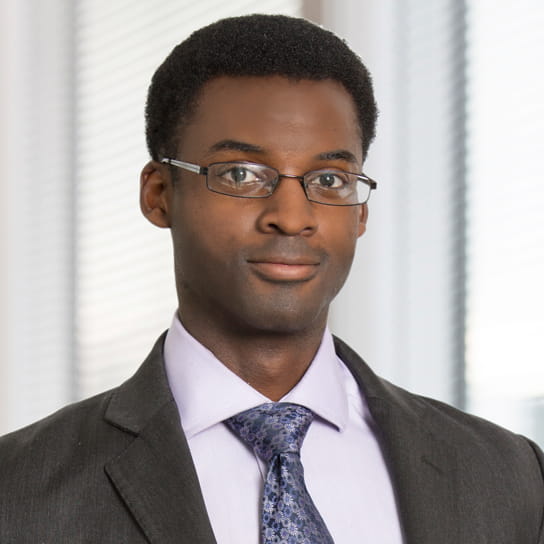 Mbombo Simpungwe-Kaoma
Senior AssociateLondon
As a solicitor advocate in our commercial litigation team, Mbombo Simpungwe-Kaoma focuses on advising clients on high value, multi-jurisdictional (re)insurance disputes (litigation, arbitration, and ADR), general commercial litigation, and regulatory investigations.
Mbombo has experience in advising (re)insurer and (re)insured clients on complex, cross-border coverage, avoidance, and notification disputes across various classes of business including marine, charterers' liability, warranty & indemnity, energy, energy construction risks, directors & officers, property damage/business interruption, professional indemnity, and credit default.
As well as (re)insurance work, Mbombo's practice also includes a broader range of general commercial disputes, including a Court of Appeal jurisdiction dispute in the context of an alleged gambling conspiracy, a Commercial Court breach of confidence action, and a commercial product liability claim involving defective flight safety equipment.
On the regulatory investigations side, Mbombo has assisted tobacco industry and insurance broker clients in relation to FCA, FOS, and HMRC enforcement action (and ancillary commercial disputes arising out of the alleged misconduct).
Mbombo's non-contentious work also includes advising on reinsurance and retrocession contractual wording. In addition, he has assisted clients in running multi-jurisdictional advice projects in connection with global product launches, and in overhauling their suites of Third Party Administrator Agreements (and in subsequent negotiations over the implementation of those new contractual arrangements).
Mbombo has also spent time on secondment as a judicial assistant at the High Court (including assisting judges with draft judgments and research), at a Lloyd's corporate member, and with an in-house commercial legal team.
Education and admissions
Education
Higher Rights of Audience, Kaplan Law School, 2019
L.P.C., BPP University Law School, 2014
B.A. in Law (Jurisprudence), University of Oxford, 2012
Bar admissions and qualifications
Solicitor, England and Wales
Court admissions
Senior Courts of England and Wales
Representative experience
Acting on a reinsurance arbitration, advising our client on the reinsurer's counter-claim for avoidance (alleged fraudulent misrepresentation).
Representing AXA in the Commercial Court in its claim for the avoidance of an energy construction treaty on grounds of material non-disclosure and misrepresentation.
Advising on coverage disputes across a range of different policies, including property damage/business interruption, D&O, credit default, and warranty & indemnity.
Acting for the claimant in a breach of confidence action where our client was granted an interim injunction restraining the misuse of its confidential information: Awbury v Karson [2019] EWHC 233.
Lead associate in a Court of Appeal jurisdiction dispute in the context of an alleged gambling conspiracy (Eurasia v Aguad [2018] 1 W.L.R. 6089, CA)
Advising an employer on the estoppel issues raised by a dispute with the pensions trustee.
Acting for the claimant in an ongoing major international commercial fraud claim, where the sums in dispute are in excess of $3bn.
Cases worked on as a judicial assistant: Palmeri v CS Ltd [2020] EWHC 2934 (breach of contract), D v Persons Unknown (lifelong anonymity application), Rachel Riley v Sivier (celebrity defamation).
Judicial assistant (continued): Toombes v Dr Mitchell [2020] EWHC 3506 (clinical negligence claim for "wrongful life"), DFX v Coventry (alleged negligent discharge of council's child welfare duties).