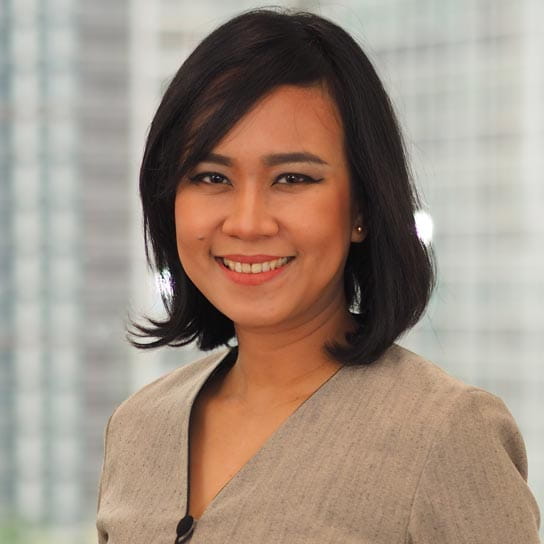 Dewi Sawitri
Senior Associate, Jakarta
Dewi's core focus is banking and finance (she previously headed the Jakarta legal team at the Bank of Tokyo-Mitsubishi UFJ, Ltd. prior to joining the firm). Dewi understands the financial industries by practice and has advised various cross-border transactions. Dewi understands risk perspective over matters and is able to embed these as additional value on her legal advice and judgements.
More recently Dewi has advised the Indonesian central bank on the Indonesian ISDA Master Agreement project, and advised a global financial services company on a financial guarantee scheme on unsecured properties to be utilised to free local bank's capital charge.
Dewi's experience includes advising on syndicated and bilateral loan transactions (for finance, telecommunications, manufacturing companies, and others), debt restructuring, distressed assets/debt sales, trade finance, escrow arrangements, derivatives, negotiation of International Swaps and Derivatives Association (ISDA), various banking products and security arrangements.
Aside from the above, Dewi has become increasingly involved in corporate work as well, including standardising procurement templates for one of the biggest telecommunication companies in Indonesia.
Education and admissions
Education
Bachelor of Law, University of Indonesia
Master of Public Administration, School of Public Policy, University of Singapore
Bar admissions and qualifications
Indonesia from PERADI (Perhimpunan Advocate Indonesia/Indonesian Advocate Association)
Representative experience
Advising the Indonesian central bank on the standardisation project for Indonesian ISDA Master Agreement.*
Advising on equity and debt financing, security advice on capital raising to fund micro-finance growth and on guarantee arrangements.*
Advising a global client on a term loan associated with the accession of Indonesian subsidiaries to the group's EMTN programme.*
Advising and executing the transfer of assets of Japanese bank's branch in Indonesia throughout its global merger process.*
Advising on the structuring and potential establishment of technology based e-money and banking services in Indonesia.*
Representing state owned fertilizer company on a club deal arrangement worth IDR 7.4 trillion in connection with project in South Sumatera.*
Providing general advisory on hedging requirements and offshore loans in Indonesia.*
Advising on guarantees issued by JBIC in connection with the issuance of bonds by a major finance company in Indonesia.*
Advising on a range of Indonesian banking regulatory issues, new products and various loan facilities.*
Advising on the preparation of trade channel, mobile access and other cross border private banking activities.*
Advising on the payment factory arrangement, collateral management.*
Advising the World Bank for the interest of the Ministry of Finance of the Republic of Indonesia on the establishment of the Indonesian Guarantee Fund.*
Advising port state owned company on quayside container crane, port berthing maintenance contracts, procurement of 4 (four) units Rail Mounted Gantry Cranes.*
Advising on the acquisition of an Indonesian insurance brokerage company.*
Advising on the revision of its securities brokerage compliance manual.*
Providing general advices on issues related to the issuance of US$40m mandatory convertible bond.*
Advising on the financing of Unmanned Aerial Vehicles amounting US$13.6m.*
Advising on the acquisition of palm oil plantation companies in Indonesia by the subsidiary of the China state owned enterprise.*
Advising on payment arrangement of natural gas sale in Indonesia.*
Advising Dutch Development Bank on the provision of a US$10m term loan facility to a local borrower in Indonesia.*
*Matter handled prior to joining Hogan Lovells.