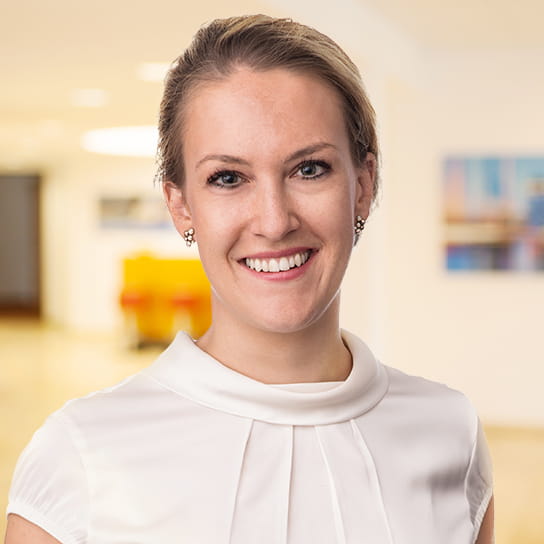 Sabrina Handke has been advising in the field of real estate and hotel law for more than eight years in the Munich office of Hogan Lovells. 
Sabrina has specialized in the niche of hotels and offers a pragmatic solution and economically characterized approach for all legal matters related to hotels. Together with Frankfurt partner Marc P. Werner she heads the well-established German hotel team of Hogan Lovells.
Sabrina provides advice as regards to all types of contracts related to hotel real estate and hotel operations as well as the acquisition and sale of single objects or portfolios by way of asset and share deal and also the acquisition, sale and merger of hotel operating companies. Sabrina's clients in the hotel sector are owners, operators, franchisors, investors and financing providers.
Sabrina studied law with an additional qualification in economics at the University of Bayreuth. Before and during her legal traineeship at the Munich Court of Appeals Sabrina already worked for the Munich and Washington, D.C. offices of Hogan Lovells.
Awards and recognitions
2019
Recognized as Rising Star for real estate in Germany
Expert Guides
Education and admissions
Education
Second State Exam in Law, Higher Regional Court of Munich, 2011
First State Exam in Law, University of Bayreuth, 2009
Representative experience
Advising U City on the acquisition of the Vienna House hotel portfolio.
Advising Terra Firma on the acquisition of the hotel chain Welcome Hotels from the Warsteiner Group.
Advising SV Gruppe on the realization of a new hotel of the Moxy brand in Düsseldorf.
Advising Groß & Partner on the realization of a new hotel together with the NH Group.
Advising CONCEPTA Projektentwicklung on the realization of a new me and all hotel in Düsseldorf together with the Lindner Group.
Advising RFR Holding GmbH on the acquisition of the Taschenbergpalais Kempinski in Dresden.
Advising AXA Real Estate on the acquisition of the future NH Hotel in the centre of Essen.
Advising Württembergische Lebensversicherung on the acquisition of a property for a hotel project of the Motel One brand in Bonn.
Advising GE Capital on the largest sale of commercial real estate since 2007 with a volume of €24.7bn.
Advising Ergo on the financing of the development project "Schwabinger Tor" in Munich with a credit volume of €388m.
Supporting HIH on the sale of the "Atrium" in Munich with a purchase price of approx. €100m.