Ryan J. Strasser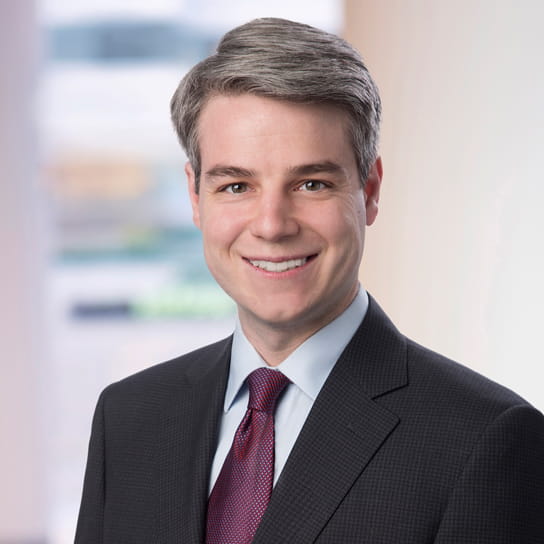 Practice Group
Litigation
Ryan Strasser is a seasoned civil litigator whose experience enables him to bring expeditious, positive results to commercial clients facing difficult or unusual dilemmas. Focusing his practice on complex civil litigation, Ryan represents clients litigating high-stakes lawsuits in federal courts across the country in the healthcare, pharmaceutical, and life sciences sectors.
Ryan has particular experience defending health insurers against claims brought under ERISA, relating to coverage determinations made under healthcare plans. He has also worked closely with the firm's regulatory groups, both in litigating against the federal government on behalf of clients challenging agency action under the Administrative Procedure Act (APA) and in advising clients on how to negotiate with agencies to achieve their objectives, short of resorting to actual litigation. Ryan has successfully convinced courts to dismiss non-meritorious claims and cases before trial, at both the motions to dismiss and summary judgment stages. In addition, Ryan has handled cases involving trade secrets claims, unfair competition claims, claims brought under the False Claims Act and Anti-Kickback Statute, business torts, and claims brought under the Lanham Act. At all points during a representation, Ryan focuses on helping clients to maximize their positioning for purposes of enhancing their success during settlement or at trial.
Ryan has a specific expertise in evidence law, developed over many years, and is a go-to source for difficult issues of admissibility in cases being briefed at the summary judgment stage and for cases approaching trial. He also demonstrated an interest in civil litigation defense work as far back as law school, during which time he published an article discussing a proposal to curtail the excesses associated with punitive damages.
Ryan is also very active in the firm's pro bono efforts. He served as lead trial counsel in a 12-day trial in the District of Columbia Superior Court, representing a client in a third-party custody dispute where the client won outright; Ryan continues to represent that client as appellate counsel with the case on appeal to the D.C. Court of Appeals. Ryan has also represented a large nonprofit arts venue in a breach of contract case with damages in the $100,000s. He has also represented a pro bono client involved in a tort, breach of contract, and landlord-tenant case.
Ryan's career spans the non-profit, governmental, and private sectors. After admission to the Virginia State Bar, he interned at the Homeless Advocacy Project in Philadelphia and advocated for homeless citizens ─ primarily homeless veterans ─ who the government had wrongfully denied benefits. He then interned for the appellate division of the Clark County District Attorney's Office in Las Vegas, where he honed his brief-writing skills, which he now puts to use on behalf of his clients at Hogan Lovells.