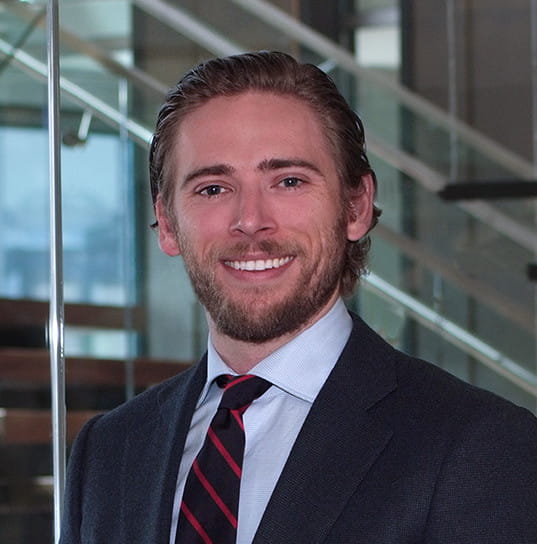 Ryan Adrian works with clients on all aspects of their transactional needs. His practice focuses on representing strategic companies, public companies, emerging companies, and private equity sponsors and their portfolio companies.
Ryan provides comprehensive advice on acquisitions and investments, divestitures, financings, partnerships, joint ventures, and other strategic considerations.
Additionally, Ryan partners with clients on addressing their general corporate matters that span the life of a company, including formation and governance matters, equity and debt considerations, structuring and negotiation of commercial relationships, and advising on strategic alternatives. His wide range of industry focus includes health care services and technologies, medical devices, consumer products, travel and leisure, entertainment, and technology.
In law school, Ryan served as a senior editor for the Harvard Journal of Law and Public Policy. During the summer following his first year of law school, he worked at a boutique strategic counseling and appellate litigation firm based in Washington, D.C., advising clients on business considerations in connection with the Unlawful Internet Gambling Enforcement Act, and drafting petitions for Supreme Court litigation. Ryan also worked for the Massachusetts Office of Information Technology, negotiating Massachusetts' software procurement contracts and promoting Open Source software development and licensing.
Education and admissions
Education
J.D., Harvard Law School, 2010
B.A., University of Missouri, magna cum laude, 2007
Bar admissions and qualifications
Colorado
Representative experience
Advise Anschutz Entertainment Group on strategic and joint venture transactions.
Regularly advise Excellere Partners on the acquisition and disposition of platform companies, on add-on acquisitions, and on platform management.
Represented OptumHealth Holdings, LLC in its US$2.2bn joint venture acquisition of Sound Inpatient Physicians Holdings, LLC, a hospital medicine physician staffing company.
Represented AXA S.A. in connection with its US$155m acquisition of Maestro Health, Inc., a health benefit administration digital company.
Advised OptumInsight, Inc. on its US$2.85bn take-private acquisition and carve-out transaction of The Advisory Board Company.
Advised the partnership of Aspen Skiing Company and KSL Capital Partners, LLC on the US$1.5bn acquisition of Intrawest Resorts Holdings Inc. and the acquisition of Mammoth Resorts.
Advised UnitedHealth Group Incorporated on its US$2.3bn acquisition of Surgical Care Affiliates, Inc.
Advised Dick's Sporting Goods, Inc. on its acquisition of GameChanger Media, Inc., a mobile scorekeeping platform for amateur sports.
Advised OptumRx with its acquisition of AxelaCare Health Solutions, a leading provider of home infusion solutions.
Advised KSL Capital Partners in connection with its acquisition of WellBiz Brands, Inc., including Elements Massage, Fitness Together, and Fit36.
Advised OptumHealth Care Solutions, Inc. in connection with its US$600m acquisition of Alere Health, LLC.
Advised Vention Medical, Inc., a platform company of KRG Capital Partners, LLC, in several acquisition and disposition transactions.
Advised Optum, Inc. in connection with its acquisition of Medsynergies, Inc., a leading provider of health management services.
Advised OtterBox in connection with its acquisition of LifeProof.
Advised OptumInsight, Inc. in its acquisition of Quality Software Services, Inc., a health care IT management and software services company.
Advised OptumInsight in its $3.2B acquisition of Equian LLC, a leading provider of healthcare payment integrity services.
Represented Oracle in its acquisition of the naming rights for Oracle Park, the home baseball stadium of the San Francisco Giants.
Represented the Denver Metropolitan Football Stadium District in its sale of the naming rights for Empower Field at Mile High, the home football stadium for the Denver Broncos.
Advised SUNY Upstate Medical University on the naming rights acquisition for Upstate Medical University Arena, home of the Syracuse Crunch AHL team.