Ruth Grant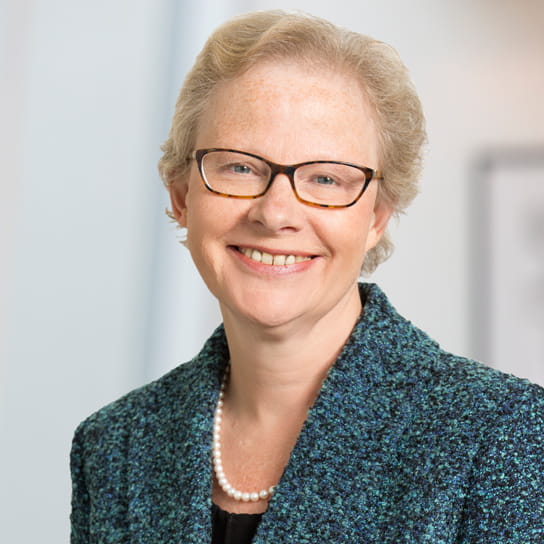 Languages
English, French
Practice Group
Litigation
A partner in our London office, Ruth Grant focuses on dispute resolution work in the fields of product liability and professional liability/negligence. Ruth has a broad litigation background based on over 30 years experience handling disputes for a variety of commercial clients in the High Court in London and working with US lawyers in proceedings in the US for UK clients. With extensive involvement of over 15 years in tobacco-related litigation in the UK, the US and in a number of British Commonwealth jurisdictions, Ruth has a wealth of knowledge on managing complex cross-border litigation and the evidential issues that can arise.
Ruth is also responsible for Hogan Lovells' own professional indemnity matters. Ruth has specific skills in relation to disclosure/discovery and privilege. Former London Managing Partner (2005-2009) and firm People Development Partner (2009-2015), Ruth is a member of Hogan Lovells' board and Chairs Hogan Lovells' global Diversity and Inclusion Committee. Ruth is also a member of the Solicitors Regulation Authority Equality, Diversity and Inclusion Committee and is a member of the City of London Law Society Training Committee. Ruth is the 2016 winner of The Law Society of England and Wales' Woman Lawyer of the Year.
Representative experience
Acting for solicitors in negligence proceedings arising from the conduct of litigation.
Advice on asbestos liability issues in relation to formerly nationalised industry.
Advice on product liability litigation in various British Commonwealth jurisdictions.
Acting for UK multi-national in respect of U.S. racketeering allegations.
Advice on UK Companies Act investigation pursuant to s447 Companies Act 1985.
Defence of UK multi-national in US price fixing proceedings.
Acting for European multi-national in group litigation relating to discriminatory UK tax regime.
Acting for UK multi-national in proceedings pursuant to the Tobacco Products Duty Act 1979.
2016
Woman Lawyer of the Year
The Law Society of England and Wales
Latest thinking and events
Hogan Lovells Publications
Client Notes
Hogan Lovells Publications
Client Notes