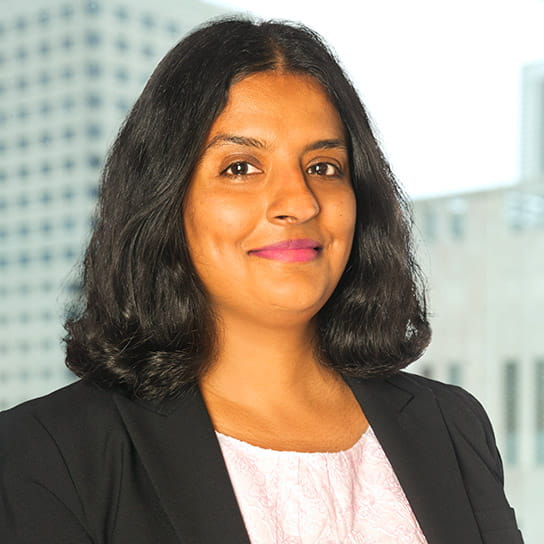 Sujatha Rochford, Ph.D.
Patent AgentBoston
Sujatha Rochford has a long history of working in the fields of chemistry, materials science, renewable energy, and biotechnology.
As part of our market-leading Intellectual Property practice, Sujatha helps some of the world's most innovative life sciences companies on issues relating to their patent portfolio management and strategy. Her primary practice focuses on the drafting and prosecution of patent applications. Her patent prosecution experience includes recombinant protein therapy, small molecules, polymers, peptides, dry powder inhalation therapy, molecular diagnostics, flow battery, and oil drilling compositions and methods.
As a former researcher at Harvard Medical School and the University of Pennsylvania, Sujatha has a strong technical understanding of her clients' products and innovations.
Prior to joining the firm, Sujatha spent more than five years as a patent agent at an international law firm in Boston. Sujatha earned her doctorate degree in chemistry from Rutgers University and her Master of Science and Bachelor of Science degrees in chemistry from the University of Madras, India.
Education and admissions
Education
Ph.D., Rutgers University, 2008
M.S., University of Madras, 1997
B.S., University of Madras, 1995
Court admissions
U.S. Patent & Trademark Office