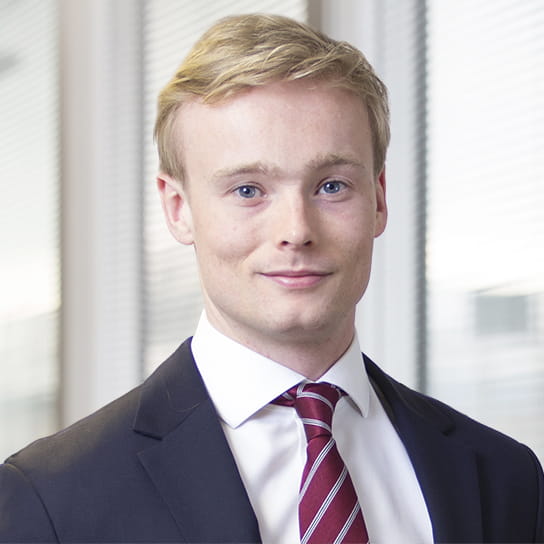 James Richardson
Associate, London
James Richardson is an associate in our international insurance and reinsurance team, with experience in advising on insurance law and regulation.
As a member of our Policy Wording Unit, James has advised insured corporates, brokers, insurers and reinsurers on issues relating to a wide range of corporate insurance policy wordings including transactional risk insurance, D&O and E&O insurance. His work includes drafting and negotiating policy terms and conditions.
James also has a good deal of experience assisting with dispute resolution and complex litigation across disparate areas, including regulatory investigations. His work includes working with clients from the early strategic stages of potential disputes through to the final stages, including the Supreme Court and settlement.
James has a particular interest in InsurTech, driverless cars and innovation in the insurance industry and has worked with both startups and established firms.
Education and admissions
Education
B.A., University of York, honors, Philosophy and Politics
Representative experience
Advising UK and EU real estate (buy-side and sell-side) clients on transactional risk policies, including warranty and indemnity, title, tax and environmental insurance.
Negotiating transactional insurance (various title, W&I and contingent risk policies) for (buy-side) private equity and investment company clients in the UK and EMEA.
Advising (buy-side) investment company clients on transactional risk issues and appropriate insurance protection – and making subsequent claims notifications.
Helping a global insurer win an exclusive distribution arrangement via an auction process, and subsequently negotiating contracts on its behalf with a global bank.
Reviewing and drafting the terms of Insurance-Linked Securities (including Industry Loss Warranties).
Investigating internal conduct, employees and historic issues (while based in Munich) at a global automotive components manufacturer.
Advising a global insurer on compliance with conduct regulation.
Investigating potential conduct and competition issues at a global broker operating in the aerospace market and corresponding with the regulator.
Negotiating a credit insurance facility for a Scandinavian bank.
Advising a commercial bank on its coverage in respect of specific trade risks.
Advising a pensions provider on making amendments to its policies through the courts.
Advising a reinsurer as to the effect of the Insurance Act 2015 and how to amend its treaties.
Advising an aerospace body on its rights and coverage following the confiscation of engines by Russian authorities.
Advising clients in the UK and EMEA on warranty and indemnity insurance, title insurance and other transactional risk issues.
Assisting with successfully representing an energy firm regarding a multi-million pound group litigation in respect of oil spills in Nigeria.
Successfully helping a major sharing economy client to have the High Court grant declarations of statutory interpretation in its favour.
Working for the Chairman of a sovereign wealth fund to seek a declaration from the Commercial Court as to the legitimate Government of Libya.