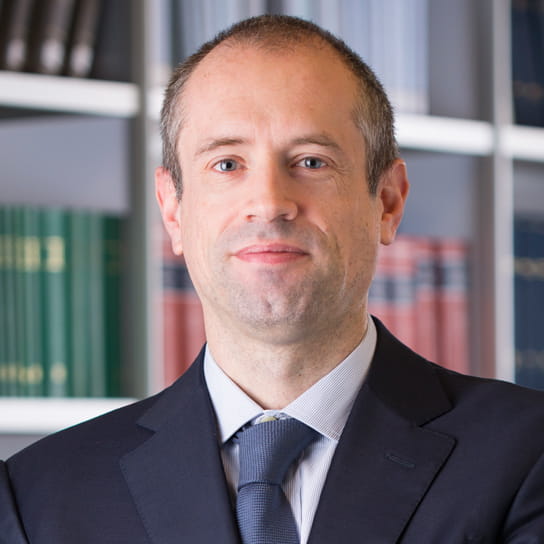 Riccardo Fruscalzo
CounselMilan
Easy to reach and ready to come back to you, Riccardo takes proud to have assisted start-up companies, from the first steps in the Italian market to established businesses, as well as to support the expansion and internationalisation of Italian clients of the firm.Starting as an IP litigator and with a PhD of the University of Parma in Intellectual Property Law, Riccardo Fruscalzo focuses on the Life Sciences Industry, providing to his clients full assistance in this sector. In patent litigation and commercial transactions, Riccardo believes that an in-depth knowledge of regulation and technology is a true strong point.
He wants to understand the client business and thinks that legal advice is a tool for the solution of problems: tell us your objective and we'll tell you the right way to achieve it. As experienced patent litigator, he assists clients of the firm in highly complex litigations. Advising on regulatory issues, his knowledge ranges from clinical trials to authorizations procedures, from import/ export to advertising, pricing and commercialisation of products of the health care and life sciences sector.
Riccardo is a member of the Italian Life Sciences Group of the Milan American Chamber of Commerce and author of several publications in Intellectual Property Law and Life Sciences sector.
Awards and recognitions
2019
Intellectual Property (Germany)
Chambers Global
Education and admissions
Education
PhD in Intellectual Property and Competition Law, University of Parma, 2012
Master in Intellectual Property Management, Polytechnic of Milan University, 2003
Università degli Studi di Parma, 2001
Memberships
Italian Life Sciences Group established at the Italian office of the American Chamber of Commerce
Bar admissions and qualifications
Milan
Representative experience
Assisting a leading Italian company on required variations to the MAs in case of change of manufacturer and compliance with GMP by contract manufacturer.
Assisting a leading Italian pharmaceutical company in the negotiation of clinical trial agreements transfer and licensing agreements.
Assisting a manufacturer in the negotiation of supply agreements for the active pharmaceutical ingredients to non-EU manufacturing companies.
Assisting a market leader in molecular technology, in the enforcement of a patent protecting a molecular diagnostic tests to map a rare blood disease.
Assisting a Swiss multinational company on regulatory aspects re: use of a medical device for administration of a medicinal product and software apps.
Assisting a US Company in a litigation for the infringement of a immunological process for detecting antibodies directed towards tissue transglutaminase (tTG).
Assisting an US multinational company in ordinary proceedings re: declaration of non-infringement of the client's patents covering a vaccine for a severe disease.
Daily assistance to a US multinational company specialising in the field of medicinal products for rare diseases.