Reshana Pillay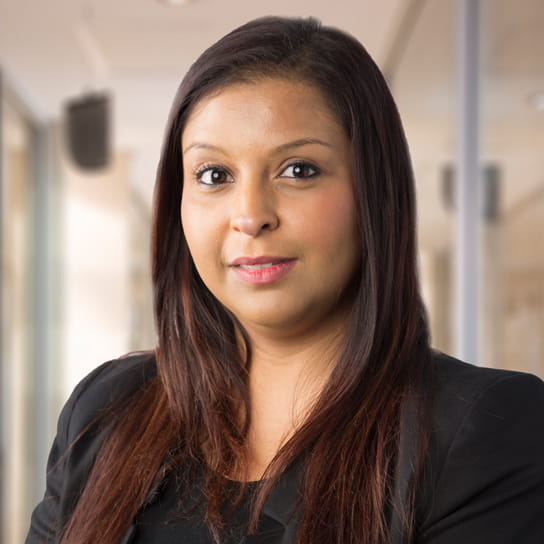 Practice Group
Litigation
Reshana focuses on civil litigation with a particular emphasis on insurance and personal injury related matters.
She has a special interest in medical malpractice, sport and entertainment law, cyber law, as well as product liability litigation stemming from the Consumer Protection Act.
Reshana has vast experience in Road Accident Fund matters as well as public liability litigation. She has been involved in some of the larger personal injury matters and has become accustomed to producing the most favourable outcome for her clients.
Her practice currently includes various aspects of insurance and personal injury litigation such as product liability, public liability, medical malpractice claims, sports recreation and entertainment insurance, cyber law insurance, and long-term insurance.
She also assisted in preparing a practical guide to the Safety at Sports and Recreation Events Act 2 of 2010 together with leading international brokers Aon South Africa (Pty) Ltd, which is currently being utilised by a number of large institutions, one of which is Swim SA.
Representative Experience
Acting on behalf of many of the large insurance groups involving various aspects of insurance.
Regularly litigating in respect of disputes arising from medical malpractice, public liability and professional indemnity claims.
Working hand-in-hand with a leading insurance broker in advising its clients on medical malpractice queries.
Acting for the insurers of two of the largest hospital chains in South Africa and regularly conducting seminars and workshops with clients in this area.
Providing advice to the Road Accident Fund in respect of legislative reforms and interpretation.
Being involved in a number of constitutional challenges brought against the Road Accident Fund flowing from the amendments to the Road Accident Fund Act.
Latest thinking and events
Hogan Lovells Publications
Hogan Lovells Publications
Hogan Lovells Publications
Hogan Lovells Publications