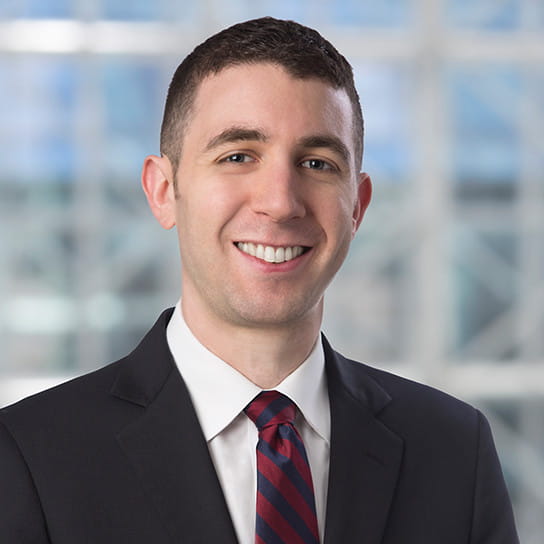 "How's this for pressure in your mid-20s: Mitchell Reich... [is] the first openly gay president of the [Harvard Law Review]."

Advocate, Forty Under Forty, 2011
Mitchell P. Reich focuses on Supreme Court and appellate litigation. He has argued in the Supreme Court, the federal courts of appeals, and federal district courts, representing clients ranging from a bankruptcy trustee to a nationwide class of asylum-seekers.
He has briefed over a dozen merits cases in the Supreme Court, including on major questions of tax, securities, education, and First Amendment law. He successfully argued a Ninth Circuit appeal challenging President Trump's travel ban, and co-led the team that won a final judgment striking down a ban on asylum at the southern border.
Mitch's work spans a broad swathe of sectors, subject matters, and clients. He has briefed patent, bankruptcy, environmental, and class-action appeals; argued on behalf of clients opposing tariffs and the confirmation of an international arbitral award; and represented the Governor of Pennsylvania, the State of Hawaii, and the European Commission. As part of his vibrant pro bono practice, Mitch has served as counsel for civil rights claimants and death-row inmates and filed briefs in defense of the rights of immigrants, LGBT persons, and the wrongfully incarcerated.
Before joining Hogan Lovells, Mitch clerked for Associate Justice Elena Kagan of the U.S. Supreme Court and Chief Judge Merrick B. Garland of the U.S. Court of Appeals for the D.C. Circuit. He also worked in the Department of Justice's Office of Legal Counsel, where he advised the White House, the attorney general, and federal agencies on questions of constitutional, statutory, and administrative law. Mitch teaches a class on constitutional litigation at Georgetown University Law Center, and his scholarship has been published in the Texas Law Review. Mitch graduated magna cum laude from Harvard Law School, where he was president of the Harvard Law Review and a member of the winning team in the Ames Moot Court Competition.
Awards and recognitions
2019
Dispute Resolution: Appellate
Legal 500 US
Education and admissions
Education
J.D., Harvard Law School, magna cum laude, 2012
B.A., Yale University, magna cum laude, 2009
Bar admissions and qualifications
District of Columbia
New York
Court admissions
U.S. Court of Appeals, Fourth Circuit
U.S. Court of Appeals, Sixth Circuit
U.S. Court of Appeals, Ninth Circuit
U.S. Court of Appeals for the D.C. Circuit
U.S. District Court, Western District of Michigan
Representative experience
Briefed eight Supreme Court merits cases over the past two terms, including the team's significant victories in Bristol-Myers Squibb v. Superior Court (8-1) and Town of Chester v. Laroe Estates (9-0).
Argued and won a Ninth Circuit appeal upholding a nationwide injunction against the president's travel ban; serve as one of the principal drafters of briefs challenging the travel ban in the Supreme Court, the Ninth Circuit, and the District of Hawaii.
Second chaired Supreme Court cases concerning the forum in which plaintiffs may file federal securities class actions (Cyan v. Beaver County Employees Retirement Fund) and when litigants may appeal judgments in a consolidated case (Hall v. Hall).
Briefed and argued an NCAA appeal seeking to overturn an infractions decision that stripped a university of its national title and required the forfeiture of years' worth of conference revenues.
Obtained summary dismissal of a Sixth Circuit appeal challenging the legality of the Girl Scouts national retirement plan.
Served as principal drafter of a Supreme Court amicus brief on behalf of the country's leading anti-discrimination scholars arguing that Title VII prohibits discrimination on the basis of sexual orientation.