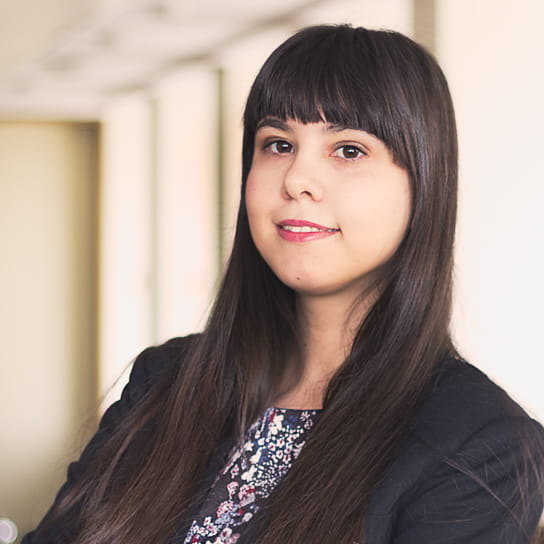 Clara Regalado
AssociateMadrid
As an Associate in our Intellectual Property, Information Technology, Media and Data Protection practice, Clara advises clients on matters concerning data protection, cybersecurity, e-commerce, telecommunications and intellectual and industrial property rights.
In particular, Clara is part of the team who specialises in advising both international and local companies in various types of administrative proceedings, specially before the Spanish Data Protection Agency. These range from preliminary proceedings to complex formal sanctioning proceedings, having participated in some of the most relevant and ground-breaking recent cases before this Agency. Clara also works in cases and proceedings with other administrative bodies (such as the Second Section of the Intellectual Property Commission and tourism authorities). In addition, Clara's most remarkable experience includes advising both international and local companies in proceedings before judicial bodies (including the Spanish High Court and the Supreme Court), particularly in the context of cases relating to data protection.
In her day-to-day, Clara also advises local and international leading companies from various sectors, including the insurance, banking, audio-visual, telecommunications and information society services sectors; on the fulfilment of their obligations in data protection matters, including, among other aspects, establishing the roles under data protection laws of the different parties that take part in complex commercial relationships, identifying the adequate legal bases that legitimize the processing and assisting with any other necessary aspects under the applicable data protection laws.
In addition to the foregoing, Clara advises companies of all sectors and industries on the review and negotiation of IT/IP and software agreements, development of online platforms, telecoms and audio-visual regulations, web-related policies and app-related policies.
Education and admissions
Education
LLM in Preparation for Lawyers and Business Law, Universidad de Navarra, 2017
Double Degree in Law and European Union Law and International Lawyer Practice, Universidad San Pablo CEU, 2016
Representative experience
Providing local and international entities of several sectors, specially the insurance sector, with guidance on the fulfillment of the requirements under data protection laws.
Advising international and local companies of significance before the Spanish Data Protection Agency (in particular, in the context of sanctioning proceedings) and other administrative bodies, as well as judicial bodies.
Assisting one of the largest international companies in the supermarkets sector in the data protection aspects of the launch of their App.
Advising local and international entities in drafting intellectual property rights license and purchase agreements.