Raymond E. Vickery, Jr.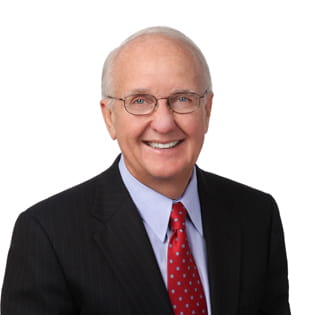 Ray Vickery is a leading adviser on U.S.-India relations. He is a Global Fellow of the Woodrow Wilson International Center for Scholars, where he was previously a Public Policy Scholar, and is a Senior Adviser in India at the Albright Stonebridge Group. He is the author of books on U.S.-India economic engagement and India energy, as well as numerous articles on these subjects.
As Assistant Secretary of Commerce, Trade Development, under President Bill Clinton, he helped lead the implementation of the National Export Strategy. As a part of that strategy, Ray set up and supervised the Advocacy Center and the interagency Advocacy Network that successfully advocated for U.S. export projects worth billions of dollars. In carrying out the agency's Big Emerging Markets initiative, he had particular responsibility for India. Ray was instrumental in planning and executing Commerce Secretary Ron Brown's mission to India, Commerce Secretary Mickey Kantor's mission to the Balkans, and the U.S.-India Commercial Alliance.
He served as a member of the U.S.-India Economic Sub-commission. He also chaired the Trade Promotion Coordinating Committee Environmental Trade Working Group, and served as the Commerce Secretary's representative on the Export-Import Bank Board of Directors. Ray was a leader in the U.S.-India Business Council's programs for President Clinton's historic trip to India in 2000, and served as policy adviser to Clinton when he returned to India in 2001 after his presidency.
Before Joining the Clinton administration, Ray was managing partner of the Virginia office of Hogan & Hartson (now Hogan Lovells), where his practice included international technology licensing.
He served three terms in the Virginia General Assembly, and was a member of the South Asia advisory teams in the presidential campaigns of Barack Obama, John Kerry, and Al Gore.
"Ray Vickery's extensive first-hand experience in U.S. India economic relations, combined with his scrupulous research, has led to a comprehensive and thoughtful analysis of a relationship of increasing importance to both nations and the world."
"Without Ray's leadership this legislation [the Henry J. Hyde U.S.-India Peaceful Atomic Energy Cooperation Act] may never have happened. Ray was instrumental in marshaling the forces at the right time throughout the 18-month advocacy campaign."
Representative experience
Advised on setting up advocacy groups on U.S.-India relations.
Advised on setting up Indian campus for U.S. University.
Advised on U.S. University transferring funds to India for setting up center for higher education.
Advised concerning setting up of credit card accounts for Indian employees of U.S. automaker.
Successfully advocated for change in tariffs for various chemical imports to India.
Successfully advocated for changes in Indian regulatory treatment of U.S. consumer product.
Establishment of innovation incubation centers in India for U.S. university.
Successfully advocated for U.S.-India civil nuclear deal.
Latest thinking and events
Published Works
The Woodrow Wilson International Center for Scholars
Published Works
The Eagle and the Elephant: Strategic Aspects of US-India Economic Engagement
Published Works
Legal and Operational Issues for US Colleges and Universities Interested in India: Comparisons with China
The Global University: Initiating, Managing, and Maintaining International Programs
Published Works
The Indian Opportunity for American Higher Education
The Chronicle of Higher Education
Published Works
India's Bid for a New Order
The Journal of the German Council on Foreign Relations