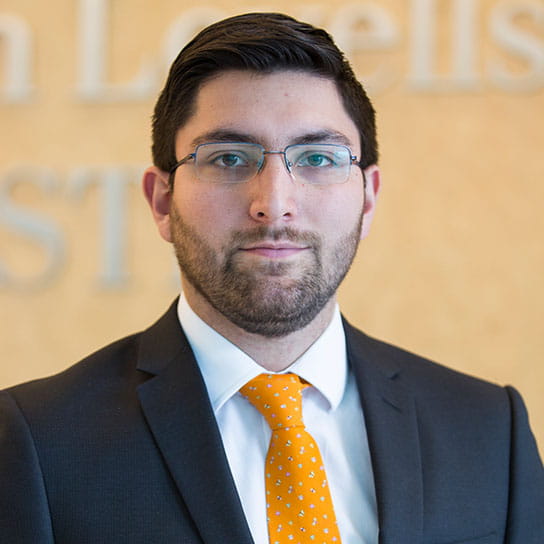 Alberto Quintana has more than a decade of experience handling cases and proceedings before the Mexican federal and state courts as well as government dependencies. He focuses his practice on commercial and civil litigation, bankruptcy proceedings, and arbitration.
Alberto has successfully represented national and foreign corporations in the insurance, energy, oil and gas, construction, and mining industries as well as the banking, food, chemicals, technology, trains, and publishing sectors. He has also successfully represented debtors and creditors in bankruptcy proceedings.
As a foreign practitioner, Alberto has experience in the U.S. and California legal systems. He speaks English, Portuguese, and Spanish. He is also a member of the Ilustre y Nacional Colegio de Abogados de México and the Fundación Barra Mexicana, in which has represented various clients in pro bono cases.
Education and admissions
Education
Master of Law, Northwestern University School of Law, 2019
Law Degree, Universidad Panamericana, 2016
Law Degree, Universidad Iberoamericana, 2013
Representative experience
Represented one of the biggest chemical companies in the world related to product liability claims.
Participated in the representation of the biggest Mexican Steel company in breach of contract cases related to Petróleos Mexicanos.
Represented a foreign technology company in alleged tort cases related to Comisión Federal de Electricidad.
Represented insurance companies in several commercial cases regarding conflicts of insurance policy's coverage.
Participated in the representation of bondholders in the biggest Mexican glass company's bankruptcy proceeding.
Represented farmers in pro bono cases regarding the property of land and eviction of possessors.
Participated in the representation of a rail company in administrative proceedings regarding alleged environmental damages.
Participated in arbitrations before the ICC regarding the acquisition of insurance companies.