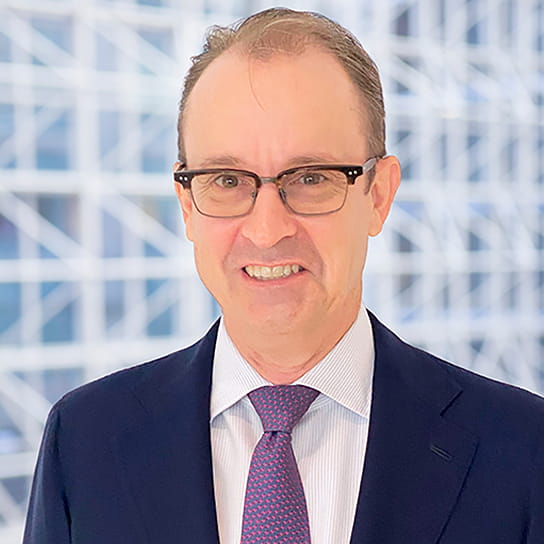 Richard P. Puttré
PartnerMiami
Rich Puttré has almost 30 years of experience in complex, cross-border project finance transactions and represents sponsors, developers, lenders, and investors in the development, financing, acquisition, and disposition of major capital intensive assets.
Representing clients throughout the United States and Latin America, Rich is actively involved in the American public-private partnership (PPP) sector, representing bidders, concession companies, underwriters, and lenders in the acquisition, development, and financing of major transportation and social infrastructure projects.
Rich has recently focused on the renewable energy sector, particularly in representing sponsors and developers in connection with multiple photovoltaic (PV) solar generation facilities in Peru, Mexico, Chile, Argentina, and Panama. Many of these transactions have involved multilateral banks and development finance institutions from various countries around the world. He also has worked on a number of wind, thermal solar, and conventional power projects as well as toll roads, airports, transmission lines, waste treatment facilities, and water projects throughout Latin America.
Throughout his career, Rich has been involved in pro bono projects and is active in fundraising efforts for cancer and Parkinson's Disease research. He is a guest lecturer in international finance at the University of Miami School of Law.
Awards and recognitions
2001-2014
Chambers Europe
Chambers & Partners
2008-2021
Chambers Global
Chambers & Partners
2009-2021
Chambers Latin America
Chambers & Partners
2015-2020
Chambers USA
Chambers & Partners
2009-2014
Legal 500 EMEA
Legal 500
2012-2021
Legal 500 Latin America
Legal 500
Education and admissions
Education
Juris Doctor, Fordham University, 1992
B.A. Economics, Columbia University, 1988
Bar admissions and qualifications
Florida
New York
Court admissions
New York
Florida
Representative experience
Advised Otras Producciones de Energía Photovoltaica, S.L. in the sale of 80% of its equity interests in two photovoltaic power plants, electrical substations, and interconnection lines in Mexico. *
Represented Sacyr Concesiones S.L., Unión Vial Río Pamplonita S.A.S., and Fideicomiso Unión Vial Río Pamplonita S.A.S. with a $451.5 million long-term project financing. *
Advised JinkoSolar Holding Co., Ltd., a large and innovative solar panel manufacturer, in the sale of two solar photovoltaic (PV) plants in Mexico to White River Renewables. *
Represented a Central American conglomerate in the acquisition of a significant strategic real estate holding in Honduras. *
Advised Paraguay Energy S.A. in connection with its US$130m financing to fund the acquisition of Petrobras' operations in Paraguay from Petrobras International Braspetro B.V. *
Represented a Central American conglomerate in connection with the acquisition and related financing of an agricultural and energy business. *
Advised Jinko Solar and Energía Solar San Ignacio, S. de R.L de C.V., in development, construction, operation, and financing of a Mexican 25.02 MWp photovoltaic solar power plant. *
Advised Jinko Solar and Solar Park Viborillas, S. de R.L. de C.V. in the development, construction, and senior financing of a 130 MW photovoltaic solar power project in Mexico. *
Advised Japan Bank for International Cooperation, The Bank of Tokyo-Mitsubishi UFJ, Ltd., Sumitomo Mitsui Banking Corporation, and Mizuho Bank, Ltd. with a US$500 million syndicated credit facility. *
Represented Autopistas del Sol, S.A. with a Rule 144A and Regulation S offering by Autopistas del Sol of $300 million aggregate principal amount of 7.375% Senior Secured Notes. *
Advised Solairedirect in the acquisition of Sol de Insurgentes, S. de R.L de C.V., currently developing a 23 MWac photovoltaic power generation project in Comondú, Mexico. *
Advised a multinational investment bank and financial services holding company as bond purchaser and hedge counterparty in $460 million financing of a public-private partnership. *
Advised Citibank, N.A. and Goldman Sachs & Co., with the marketing and issuance of $100 million of Tax-Exempt Private Activity Revenue Bonds for construction and management of HOT lanes. *
Represented Grupo T-Solar with the sale of a minority equity interest in two projects consisting of two 20 MW PV plants in southern Peru. *
Advised Solarpack Corporación Tecnológica, S.L. in the development and financing of a 19MW photovoltaic solar plant in Moquegua, Peru. *
Advised the lenders and underwriters in connection with the bids for major transportation infrastructure projects in California, Michigan, Hawaii, Texas, North Carolina, and Georgia, among others. *
Advised the sponsors in connection with the bids for transportation infrastructure projects in Washington and Oklahoma, among others. *
*Matter handled prior to joining Hogan Lovells.