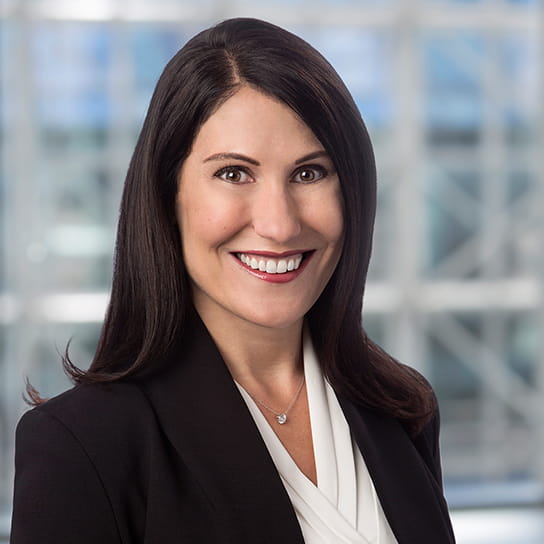 Laura Ponto offers clients a wealth of experience – in both the government and private sector – that cuts across modes of transportation and allows her to provide thoughtful solutions to the unique business, policy, and regulatory challenges presented by rapidly evolving technology.
She joined Hogan Lovells after serving as Head of Public Policy and Regulatory Affairs for Google X's Project Wing, which is developing and manufacturing delivery drones and an air traffic management platform that leverages Google infrastructure to facilitate the safe operation of drones. She is a leader in the unmanned aircraft systems (UAS or drone) industry, shaping law and policy around the globe.
She began her career in the U.S. Department of Transportation's (DOT) Office of General Counsel, where she worked on litigation, regulations, and legislation across all modes of transportation. In the Office of Chief Counsel for the National Highway Traffic Safety Administration (NHTSA) and, for more than a decade, in the Office of Chief Counsel for the Federal Aviation Administration (FAA), she worked on key rulemakings, litigation, and enforcement actions. She advised the White House, U.S. Senate, and U.S. House of Representatives on policy and legal issues related to transportation, safety, and security, and ultimately served as counsel to the U.S. Senate Committee on Commerce, Science, and Transportation. She is widely recognized as a transportation authority with the influence and credibility necessary to represent clients before regulators and legislators alike. She is also a seasoned litigator who served as Special Assistant U.S. Attorney and oversaw countless federal investigations.
Education and admissions
Education
J.D., Florida State University College of Law, magna cum laude, 2006
M.A., San Diego State University, summa cum laude, 2003
Minnesota State University Moorhead, magna cum laude, 1999
Bar admissions and qualifications
District of Columbia
California
Court admissions
U.S. District Court, District of Columbia
U.S. District Court, Eastern District of Virginia
U.S. Court of Appeals for the D.C. Circuit
U.S. Court of Appeals, Fourth Circuit