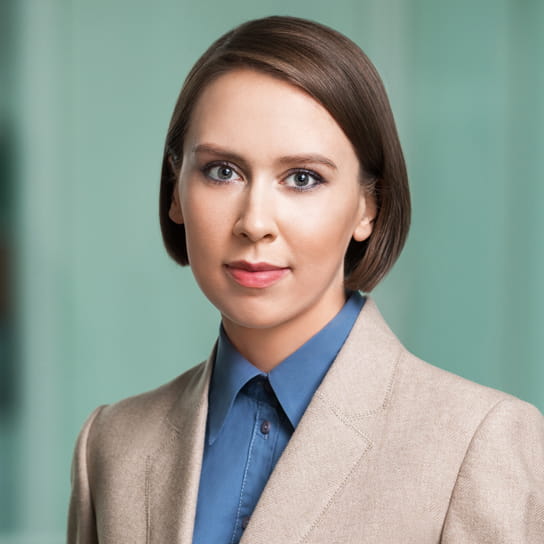 Daria Pavelieva
Senior AssociateMoscow
Daria helps clients address compliance risks when doing business in Russia and the CIS. She provides compliance solutions that not only take world-class practices into consideration, but also show regard for local laws and the specifics of a client's business.
Daria's experience includes deep-dive compliance assessments, compliance audits, compliance due diligence checks and compliance advice on particular transactions.
Daria is an experienced investigator and Certified Fraud Examiner. She conducts internal investigations into fraud, corruption, sanctions violations, anti-competitive behaviour and other compliance irregularities and assists clients with subsequent remediation and damage recovery.
Daria is also the go-to person for support in instances of dawn raids, investigations and enquiries by Russian state authorities.
Education and admissions
Education
Law degree, with honors, Lomonosov Moscow State University, 2010
Representative experience
Conducting a deep-dive compliance assessment for an international pharmaceutical company.
Conducting a compliance due diligence check of an acquired telecommunications company and supporting its acquisition from the ABC and AML compliance perspective.
Conducting an internal investigation into alleged corruption and fraud at an international equipment manufacturer.
Conducting internal investigations into alleged vendor compliance irregularities at an IT solutions provider.
Acting for a major Russian real estate developer in an arbitration before the LCIA in respect of a dispute under a Joint Venture Agreement.
Acting for a major U.S. producer of agricultural equipment in an arbitration before the ICAC under the EAC in respect of a dispute under an Agency Contract.
Acting for a leading tire manufacturer in an arbitration before the ICAC under the Russian CCI in respect of a dispute regarding a construction project.
Assisting an international company in connection with a criminal investigation in respect of an aviation accident in Russia.