Anaar Patel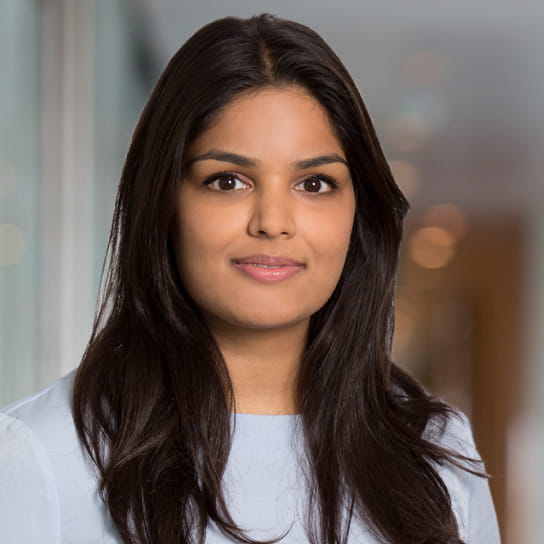 Languages
Gujarati, English, Spanish
Practice Group
Intellectual Property
As an Associate in the firm's Brands team, part of the Intellectual Property Media and Technology practice, Anaar advises clients on every aspect of their brand strategy including the development, protection, exploitation and enforcement of intellectual property rights. Chambers describes this practice as "a fantastic team – very organised and they have excellent technical understanding", with "very able and hard-working associates". Anaar enjoys helping clients across all industries deal with a range of cutting-edge legal challenges, bringing to the table a common-sense approach and an understanding of clients' commercial concerns.
Anaar specialises in trade mark, design, copyright and domain name matters, and has a keen interest in the application and development of intellectual property law with respect to the online sphere. This area has been subject to complex legal issues in recent years as the law endeavours to keep up with a fast-changing Internet which is outgrowing current legislation. An example is her recent work for Amazon in its appeal to the Court of Appeal of an infringement case brought by Lush in relation to Amazon's online search function, a case that was watched keenly by intellectual property practitioners.
Anaar advises a leading multinational consumer goods company on its trade mark and design enforcement strategy, and is currently working on a $100 claim in the pharmaceuticals industry against a supplier for economic duress, breach of contract, the tort of intimidation, and unlawful means conspiracy.
"One of the best all-round IP groups in London."
"One of the best all-round IP groups in London."
Representative experience
Acting for Amazon in its appeal to the Court of Appeal of a High Court trademark infringement decision relating to Lush trademarks.
Acting for a leading multinational consumer goods company to protect its trademark and design rights in the UK.
Advising a variety of clients in relation to clearance, registrability and brand protection issues.
Acting for clients in UK, OHIM and other national oppositions, applications, invalidity actions, co-existence negotiations and related issues.
Advising on domain name acquisition and protection strategies.
Acting for a pharmaceutical patent-owner in a commercial dispute with its supplier.
Advising a multinational telecommunications provider on all aspects