Parker D. Thomson
Of Counsel
Miami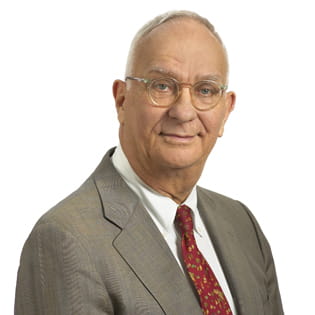 Practice Group
Litigation
Parker Thomson passed away on 3 November at the age of 85. A "civic giant" renowned for fighting, and winning, important First Amendment cases, Parker will be greatly missed by his Hogan Lovells colleagues and friends.
Parker joined the firm as a partner in 2001 in our Miami office, was Office Managing Partner for years, and retired from the partnership to become Of Counsel in 2014. He was a member of the Litigation practice, a statesman of the Florida Bar, and an admired constitutional scholar.
While at Hogan Lovells, Parker led a long-running case known as the "water wars" that addressed allocation of water from the Chattahoochee River between the states of Florida, Alabama, and Georgia. This case is an example of his commitment to the Florida environment and the local community. He also led the Everglades litigation, in which the firm represented the state of Florida in actions brought by the United States and others concerning discharges of phosphorus into the Florida Everglades. He argued three times before the U.S. Supreme Court and dozens of cases before the Florida Supreme Court.
Parker had a passion for pro bono work to improve the justice system and to provide legal representation to those who needed it — a value he instilled in many colleagues over the years.
In 2013, Parker led a Hogan Lovells pro bono team that made history and national news by persuading the Florida Supreme Court to extend the U.S. Supreme Court's 1963 decision in Gideon v. Wainwright within the Florida court system. That case allowed overburdened public defenders to decline appointments to new noncapital felony cases so that they could effectively represent indigent clients. The Miami Daily Business Review honored Parker in 2014 with a Lifetime Achievement Award recognizing his lifelong dedication to pro bono service and his participation in so many cases that shaped Florida law, such as arguing doctor-assisted suicide before the Florida Supreme Court.
Parker was deeply involved in the community and focused on bringing the arts to all. Among his invaluable contributions beyond his pro bono and legal work was his role as the founding chair of the Miami-Dade Performing Arts Center Trust that led to the creation and construction of the Adrienne Arsht Center for the Performing Arts. He led the Performing Arts Center Trust's 32-member volunteer board and worked tirelessly to secure the public-private funding that supported the construction and operations of the Arsht.
Most recently he and a Hogan Lovells team dedicated thousands of pro bono hours in supporting The Underline, a transformative industrial reuse project to create a 10-mile linear park, urban trail, and living art destination in Miami's urban core.
Our thoughts are with Parker's family as we remember his great legal accomplishments and, most importantly, his hard work to improve lives and fight for justice.
2012-2017
Environment (Florida), Senior Statesman
Chambers USA
2012-2017
Litigation: General Commercial (Florida), Senior Statesman
Chambers USA
2007-2017
Environment (Florida)
Chambers USA
2005-2017
Litigation: General Commercial (Florida)
Chambers USA
2006-2012
Business Litigation
Florida Super Lawyers
2006-2011
Top Lawyer in South Florida, Complex Commercial Litigation and Constitutional Law
South Florida Legal Guide
2007-2010
Top Lawyer in South Florida
Florida Trend's Legal Elite
2008-2010
Business Litigation
Super Lawyers: Corporate Counsel Edition
Latest thinking and events
Published Works
Florida
Getting the Deal Through - Dispute Resolution 2009
Published Works
Getting the Deal Through