Oxana Balayan
Office Managing Partner
Moscow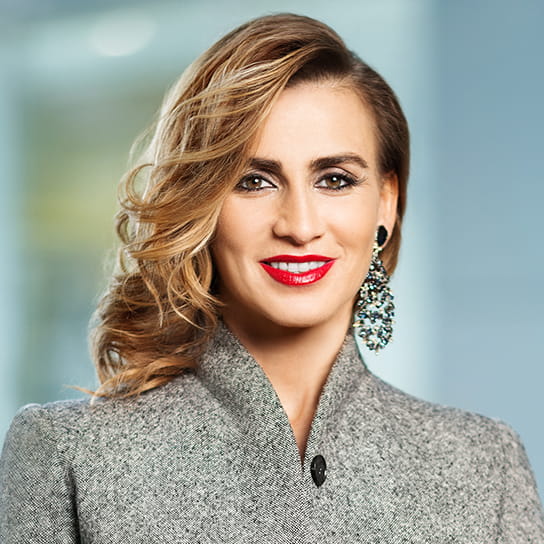 Languages
English, German, Russian
Oxana is a modern dealmaker and a star lawyer focusing on cross-border M&A and a full spectrum of corporate work. She is the 'advisor of choice' when it comes to complex domestic and international transactions or critical operational issues. Oxana has worked on more than 100 announced or completed M&A deals with a total transaction value exceeding U.S. $50bn.
With over twenty years of unique multi-jurisdictional experience, Oxana is one of the most recognised and experienced transactional lawyers in Russia. She has a creative and thorough approach to problem-solving with an excellent grasp of corporate finance, regulatory, compliance, governance and antitrust issues. Oxana's portfolio consists of transformative deals across a variety of industries including media, technology, telecoms, retail, financial institutions, automotive and many others.
Clients benefit from Oxana's strong international background which includes her dual qualification in Russia and England & Wales and work in international offices including in Germany. Oxana heads the Russian office and the Russian Corporate practice of the firm. Clients describe her as 'commercially focused' (Legal 500, 2014) and praise her for the 25/8 service.
In 2016 Oxana was awarded the inaugural Hogan Lovells' Innovation Award 'Innovative Individual'. The international jury composed of General Counsel of Airbus Group, Uber, ITV plc as well as representatives of University College London, RSG Consulting, The Advisory Board Company and Financial Times.
Watch Oxana's TV interview Women Talk on the World Business Channel.
Recent event:
Oxana Balayan spoke at the XI Annual Media Business Conference, organised by Russia's daily business newspaper Vedomosti on 29 September 2016 in Moscow. Please click here for more details (available in Russian).
Representative experience
Discovery Communications on a JV with Russia's National Media Group.
Moscow Credit Bank Capital on €500m sale of Veropharm to Abbott Group, Russia's largest foreign takeover in 2014.
A&NN Capital Fund Management, controlled by the prominent Russian businessman Alexander Mamut on US$1.2bn sale of 50.1% of shares in Euroset.
Advising X5 Retail Group, Russia's second-largest food retailer on strategic expansion including US$1.65bn acquisition of Kopeyka, the largest acquisition in Russian retail sector.
Rostelecom, Russia's largest telecoms company on US$1.3bn acquisition of National Telecommunications Company (NTK) operating broadband Internet and digital TV.
Russia's top 10 development company on acquisition of the Four Seasons hotel (former legendary Moskva hotel) at the Red Square.
Otkritie Financial Corporation, one of the leading financial institution in Russia, on US$100mn sale of a minority stake to IFC.
Sinara Group, Russia's major diversified holding, on two strategic JVs with Siemens AG in the transportation sector including for Sochi 2014 Olympics.
2016
Oxana Balayan is a "brilliant team leader, showing organisation, determination and a keen eye for detail".
Legal 500
2016
Finalist at Euromoney "European Women in Business Law" Awards 2011, 2013 - 2016 as Best in M&A
2014
Oxana Balayan is praised by sources for her strong client portfolio. She advises Russian and international companies on high-profile private equity investments across a range of sectors including TMT, pharmaceuticals, energy and mining.
Chambers Europe, Russia – Private Equity
2012
Oxana Balayan impresses market sources with "very strong management of the firm, and her clients."
Chambers Europe
2012
Oxana Balayan "offers a wealth of expertise advising clients in the retail, media, pharmaceutical, real estate and financial services industries".
Chambers Europe
2011
Oxana Balayan "earns widespread client praise for her dynamism and commercial know-how".
Chambers Global
2010
Oxana Balayan is "an impressive negotiator and deal maker".
Chambers Europe
2010
The American Lawyer in December
Dealmaker of the Week.
2009 - 2014
The Best Lawyers in Russia, Corporate, M&A, Private Equity
Latest thinking and events
Hogan Lovells Publications
Published Works
Interview with Oxana Balayan: "The winners are those who know the market and legislation of the Asian countries"