New Mobility & Transportation sector group
Awards & rankings
|
14 September 2020
We are excited to announce our refreshed sector structure and leadership to you.
Why change a running system?
We are closely monitoring the evolving convergence of industries and disruption opportunities that the future of mobility creates. As a result of this industry transformation not only traditional OEMs and suppliers develop their "mobility strategies" as part of their strategic vision. Across all modes of transport our clients are leading the way on mobility, we have taken their cue. To ensure we continue to provide the best service to you we joined forces and took the next step to adjust our sector approach accordingly.
What is new?
We have created the Mobility & Transportation sector group, led by Patrick Ayad that will include three dedicated industry sectors, to better capture where the industry is heading and allow us to collaborate even more under the umbrella of the new sector group and to further drive innovation. The chart below illustrates the new structure: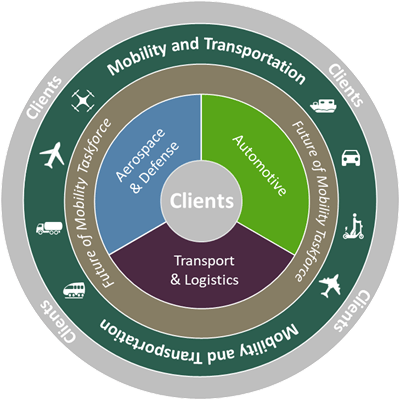 What is changing?
The current Aerospace, Defense & Government Services industry sector will be renamed Aerospace & Defense. Mike Mason will continue to lead Aerospace & Defense.
The current Automotive & Mobility industry sector will be renamed Automotive. Sebastian Polly and Will Yavinsky will transition into leadership for Automotive, in the near term, working alongside Patrick Ayad.
A newly formed industry sector, Transport and Logistics, will be led by Joanne Rotondi. This industry sector will focus on other modes of transportation including rail and shipping.
A new "Future of Mobility" task force, focusing on new mobility developments combining all modes of transport across industry sectors will also be formed, that Patrick Ayad will be leading.