Media: Awards and Rankings | 10 July 2017
Hogan Lovells Italian Antitrust team wins 'Contentious Antitrust' award at the LegalCommunity Corporate M&A Awards
On 7 July, our Italian ACER team won the "Contentious Antitrust" award at the LegalCommunity Corporate M&A Awards at a gala evening held at the Museum of Science and Technology Leonardo da Vinci in Milan.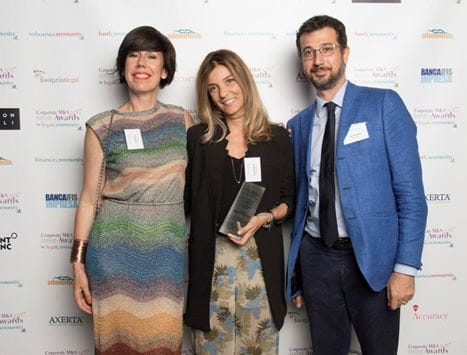 We were recognised in particular for the assistance to Volkswagen Leasing, with the judges commenting that "This order for dismissal must be regarded as a memorable event considering that similar procedures always ended up with payment of fine in the order of millions".
Our team led by Sabrina Borocci with Luigi Nascimbene and Eugenia Gambarara (pictured above) collected the award.
We are very proud of this recognition, which confirms our growing reputation in the Italian market.
Back To Listing
---