News: Press Releases | 16 March 2018
Get to grips with the UK's payment services regulations PSR
We are pleased to announce the launch of our Payments Services Academy. This interactive digital training course has been created by our industry-leading payments lawyers to help you and your teams comply with the UK's new payment services regulations (PSR).
To celebrate the launch, we're currently offering 15% off licence prices. Click here to find out more.
Watch to learn more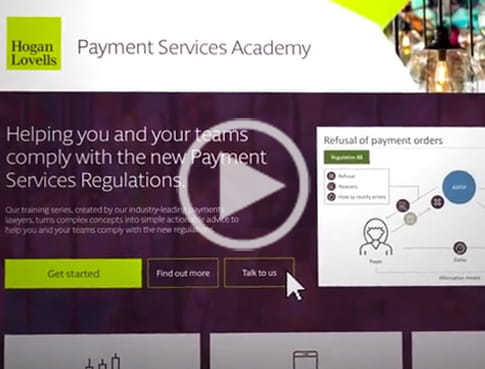 Who's it for?
The Payment Services Academy is aimed at those who need to know about the payments services regulations – particularly those in legal, compliance, risk management, product design, and operational functions
Want to know more?
Download our brochure for more detail.
What's the format?
Ten engaging and dynamic video modules explain and simplify complex legislation
Over two hours of video content that is regularly updated to cover the latest developments
Interactive note taking and quiz functions help embed what you've learned
Earn certificates to demonstrate your knowledge
What are the key benefits?
Flexibility: save time and resources by choosing the topics that are relevant to you and revisit any or all of them as many times as you like
Convenience: our courses are developed in HTML 5 to run across a wide range of browsers and across desktops, laptops, tablets, and mobile devices
Legal excellence: the course and its content has been created by our award-winning in-house lawyers
Value for money: registered users have unlimited use of the tool for a single flat fee
Compatibility: the course can be integrated with your own SCORM – or Tin Can – compliant LMS
Measurement: regular reporting on individual user progress through the training across your entire workforce
Get in touch:
If you would like to know more, please email matthew.parry@hoganlovells.com
Share
Back To Listing
---