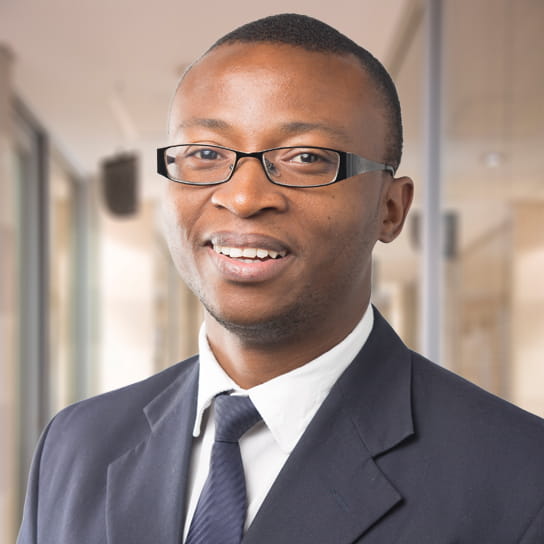 Lerothodi Mohale is a business restructuring lawyer who focuses on business rescue and insolvency matters.
He is involved in restructuring transactions and advising liquidators, business rescue practitioners and creditors. In addition, he gives company law and insolvency law advice, and gets involved in the negotiation, drafting and execution of transactional documents required in matters involving a company in financial distress.
Lerothodi has represented clients, in business rescue and insolvency matters, in litigation work in the High Court, Supreme Court of Appeal and Constitutional Court.
He has experience in liability and recovery work in Botswana and Mozambique.
Education and admissions
Education
LL.B., University of Johannesburg, 2009
Memberships
South African Restructuring and Insolvency Practitioners Association (SARIPA)
International Association of Restructuring, Insolvency & Bankruptcy Professionals (INSOL)

Court admissions
South Africa
Representative experience
Represented the Development Bank of Southern Africa (DBSA) in a matter involving a property development company, a debtor of the DBSA, in liquidation.
Advising the Life Healthcare Group in respect of the restructuring of one of its subsidiary companies.
Involved in the legal team advising The Land Bank in the restructuring, and the business rescue proceedings, of debtor in the fertiliser industry.
Represented the National Housing Finance Corporation against the Registrars of Deeds involving the cession of loans and mortgage bonds from a liquidated entity.
Represented SARIPA in the Supreme Court of Appeal litigation regarding the ranking of a business rescue practitioner's fees of a company goes in liquidation.
Advising the business rescue practitioner of Le-Sel Research in all commercial, litigation and procedural aspects of the business rescue proceedings.
Advising the business rescue practitioner of Golden Dice Foods, a South African agricultural products packaging company.