Mary Helen Wimberly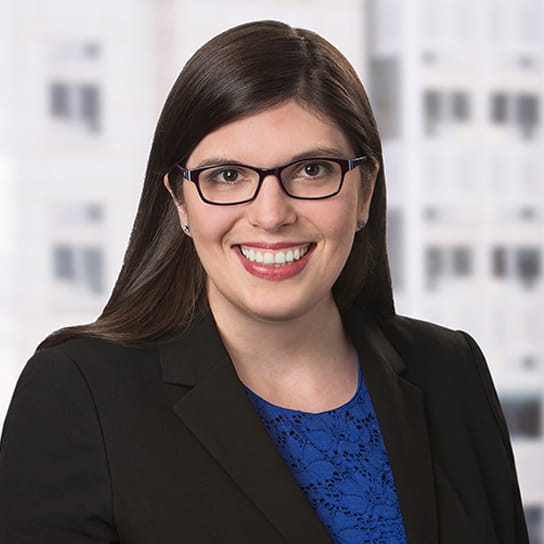 Mary Helen Wimberly is a litigator who argues cases and drafts briefs at the appellate level, and also works alongside trial counsel to prepare motions and present arguments at trial. She has personally argued eight appellate matters, including before the U.S. Courts of Appeals for the D.C., Sixth, and Seventh Circuits; drafted more than 30 briefs before the U.S. Supreme Court, including party briefs in seven merits cases; successfully petitioned the Supreme Court for certiorari review on multiple occasions; served as an appellate consultant for three trials; argued dispositive trial motions and led a jury charge conference; and drafted hundreds of briefs before federal and state courts.
Mary Helen's practice focuses on cases involving constitutional questions, complex statutory schemes, or complicated business transactions. She has successfully litigated cases on the enforcement remedies available to healthcare plans under the Employee Retirement Income Security Act; the meaning of the term "employee" under the Fair Labor Standards Act; the scope of a release in a class action settlement agreement; and the due process rights of a wrongfully punished prisoner seeking habeas relief.
Previously, Mary Helen served as a judicial law clerk to the Honorable Ronald Lee Gilman of the U.S. Court of Appeals for the Sixth Circuit and the Honorable Patricia C. Fawsett of the U.S. District Court for the Middle District of Florida. While in law school, she was the only student to secure a place on all three competitive boards: the editorial board of the Vanderbilt Law Review; the moot court board; and the mock trial traveling team. She and her teammate won Vanderbilt's mock trial tournament and were also awarded the Bass, Berry & Sims moot court award. Upon graduation, Mary Helen received the Law Review Editor's Award for making the most significant contribution to the Vanderbilt Law Review, and the Clinical Legal Education Association's Outstanding Clinical Student Award.
Representative Experience
Drafted winning briefs in landmark Second Circuit case defining the standard for determining whether interns are employees entitled to compensation.
Briefed and argued appeal on behalf of a foreign sovereign in the D.C. Circuit, in a case involving an alleged expropriation and sovereign immunity.
Drafted Supreme Court merits briefs involving the First Amendment, ERISA, FLSA, trademark law, and bankruptcy law.
Briefed, argued, and successfully defended against an ERISA-based challenge to a nationwide pension plan before the Sixth Circuit..
Secured habeas relief for a wrongfully punished inmate, following briefing and argument before the Seventh Circuit.
Briefed, argued, and successfully defended against an appeal from a several-million-dollar verdict in favor of a longstanding firm pro bono client.
Successfully briefed and argued a case involving a real estate dispute between two banks under New York law.
Briefed, argued, and won reversal of a denial of Social Security benefits for a pro bono client.
Latest thinking and events
Hogan Lovells Publications
U.S. Supreme Court and Appellate Alert
Hogan Lovells Publications
U.S. Supreme Court and Appellate Alert