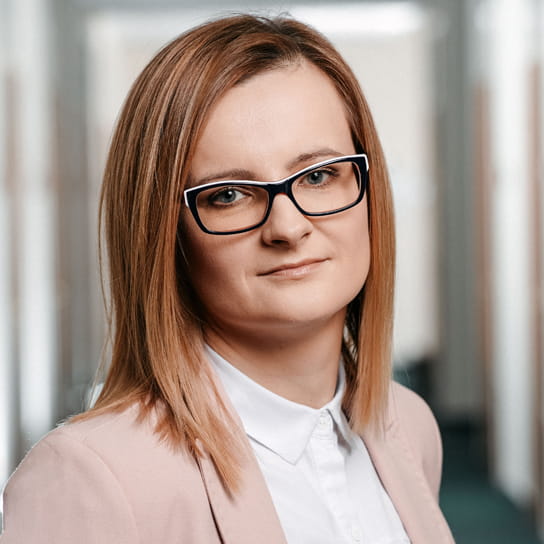 Anna Kuczewska
Senior AssociateWarsaw
Anna Kuczewska is an advocate, and a member of the Warsaw Bar Association. Anna is responsible for the financing of transport and sport infrastructures.
As a senior associate in our Banking Infrastructure Department, Anna participates in advising financial institutions and local governments, specifically in transactions connected with public funds for transport, sports, and culture. She takes part in projects using innovative financing schemes based on bond and revenue bond programmes, buy-sell-back, sale-and-leaseback financing, and other models of financing tailored to the clients' needs and goals.
Anna also has extensive experience in the financing of airports, stadiums, railroads, and cultural and entertainment facilities of all types.
Anna's ambition is to participate in a transaction from the very beginning to the final facility payment. She willingly accompanies her clients at every step of the transaction process.
Anna Kiczewska graduated from the Department of Law and Administration at the Jagiellonian University in Kraków. Anna joined the firm's Warsaw office in 2009.
Education and admissions
Education
MA Law, Jagiellonian University, 2002
Memberships
Member, The Warsaw Bar Association, 2013
Bar admissions and qualifications
Warsaw
Representative experience
Advising Bank Gospodarstwa Krajowego on private placement of secured bonds under the issuance program by Pomorska Kolej Metropolitalna S.A. (Pomeranian Metropolitan Railway), valued at €235m.
Advising in the syndicated loan for financing the construction of the stadium in Wroclaw. Value of the transaction – EUR 125,000,000.
Advising Bank Polska Kasa Opieki S.A. on preparation of secured bonds issue program for 'Koleje Mazowieckie – KM' sp. z o.o., valued at €218m.
Advising PKP Polskie Linie Kolejowe S.A. on the bonds issue programme secured by guarantee of the State Treasury. Value of the transaction - €375m.
Advising Polskie Inwestycje Rozwojowe S.A. on public-private partnership project regarding modernization of dormitories for the Jagiellonian University in Cracow. Value of transaction - €19,750,000.
Advising Bank Polska Kasa Opieki S.A. in preparation of bond issue programme for Miejskie Przedsiebiorstwo Komunikacyjne - Lodz Sp. z o.o. – EUR 63,589,000.
Advising Bank Pekao S.A. in preparation of bond issue program for Kraków Airport im. Jana Pawła, valued at €153.8m.
Advising Bank Polska Kasa Opieki S.A. in preparation of revenue bond issue programme for Tramwaj Fordon sp. z o.o. – €36,250,000.