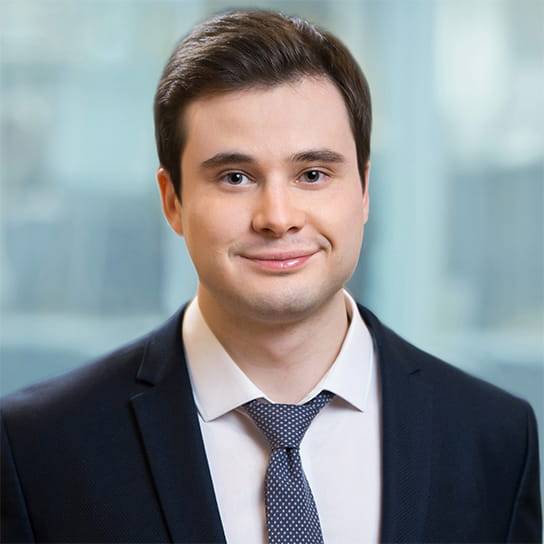 Alexander Kitaev
AssociateMoscow
Alexander Kitaev is a Russian-qualified associate in the Corporate and Finance practice of the Moscow office.  Alexander has been involved in various secured and unsecured financing transactions representing foreign banks, aircraft lessors as well as major Russian and international companies.  His experience includes advising financial institutions on banking regulatory, financial services and securities market matters.  Alexander also regularly contributes to Pro Bono matters.
Education and admissions
Education
Master of Law, Moscow State Institute for International Relations, Department of International Law, with honors, 2020
Bachelor of Law, Moscow State Institute for International Relations, Department of International Law, with honors, 2018
Representative experience
Supporting a project company in connection with a secured financing from VEB.RF, VTB Bank and Far East Development Fund to develop a mineral fertilizer plant in the Far East region of Russia
Advising Morgan Stanley and other initial purchasers as Russian counsel in connection with issuance of €260,000,000 senior secured notes by Frigoglass Finance B.V. 
Acting for ING as coordinating mandated lead arranger and other lenders in relation to a €600,000,000 revolving credit facility to NLMK, a major worldwide steel producer
Advising UniCredit on a €305,000,000 uncommitted term loan facility granted to NLMK Trading SA guaranteed by NLMK
Acting for Deutsche Bank as sole mandated lead arranger on ECA-backed loan export finance facility to Kazanorgsintez PJSC, the leading producer of polythene in Russia
Representing retail group Globus Holding GmbH & Co. KG as Russian counsel on a €50,000,000 revolving working capital facility granted by a group of German banks
Advising Alfa-Bank in connection with restructuring of prepayment facility granted to JSC Russian Copper Company
Supporting VR Capital in connection with the financing arranged for CEDC, a leading European premium spirits distributor
Representing UniCredit S.p.A. in connection with conversion of a multicurrency trade revolving credit facility agreement of NLMK Trading S.A into a "green loan"
Advising Veling Ltd and Nedbank as Russian counsel in respect of operating lease of three Boeing 777 aircraft to JSC "IrAero" Airlines, which involved further repossession of these aircraft in Russia
Counseling Jet Aviation Business Jets AG in respect of aviation regulatory matters, including customs regulation and clearance procedures to operate business jets in Russia
Advising J.P. Morgan on various Russian law banking regulatory matters as well as on use of electronic signature in Russia
Advising eBay on consumers' protection regulation relating to payment methods and various currency control issues
Representing Citibank, N.A. on matters related to insolvency proceedings in relation to Vneshprombank LLC