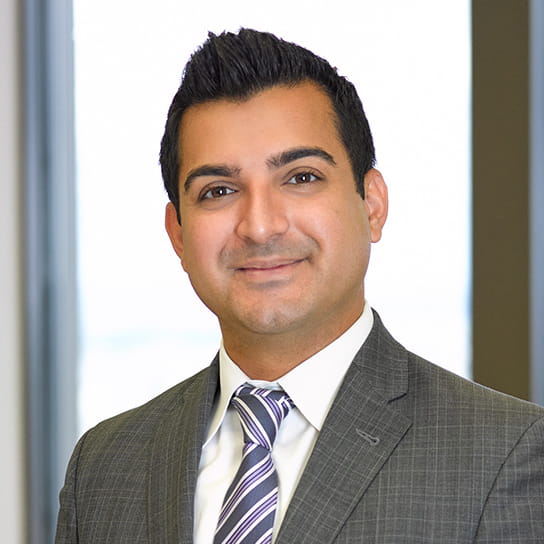 M. Imad Khan
Senior AssociateHouston
Imad Khan advises companies across diverse economic sectors, including energy, oil and gas, electricity, renewables, and mining. Focusing on international arbitration and litigation, Imad represents clients in international treaty arbitrations, international commercial arbitrations, and domestic court disputes.
In particular, he represents both investors and host states in investment disputes before the International Centre for the Settlement of Investment Disputes (ICSID) at the World Bank, as well as under the rules of the United Nations Commission on International Trade Law (UNCITRAL). Imad has also represented and advised clients in construction and commercial arbitrations under the rules of the International Chamber of Commerce (ICC) and the International Centre for Dispute Resolution (ICDR), the international body of the American Arbitration Association.
Imad is also experienced in the field of white collar enforcement and compliance matters. He has represented U.S.-based companies in internal investigations involving Foreign Corrupt Practices Act (FCPA) as well as several foreign-based companies in investigations by and negotiations with the World Bank's Integrity Vice Presidency (INT). Additionally, he is experienced in litigating commercial disputes in federal and state courts.
Imad maintains a deep understanding of his practice, publishing scholarly articles frequently. He serves as a Global Advisory Board Member of the ICDR Young & International group, as a Young Arbitrator Member on the Board of the Institute for Transnational Arbitration, and as a member of the Board of the Houston chapter of Developments in Literacy. He also serves as an adjunct professor at Washington University in St. Louis and was formerly an adjunct faculty member of international law at the University of Houston. Before joining Hogan Lovells, Imad gained practical experience in international arbitration and white collar matters in the Washington, D.C. office of a major international law firm.
Education and admissions
Education
J.D., Washington University in St. Louis School of Law, cum laude, 2011
M.B.A., Olin Business School at Washington University in St. Louis, 2011
Public International Law Certificate, Hague Academy of International Law, 2010
A.B., Occidental College, 2007
Memberships
Global Advisory Board Member, International Centre for Dispute Resolution Young & International
Board Member, Institute for Transnational Arbitration
Board Member, Development in Literacy
Member, American Society of International Law
Member, IBA Subcommittee on Investment Treaty Arbitration
Bar admissions and qualifications
Texas
District of Columbia
Court admissions
U.S. Court of Appeals, Fifth Circuit
U.S. District Court, Southern District of Texas
Representative experience
Representing two U.S. waste management companies in an investment arbitration against Morocco under the U.S.-Morocco Free Trade Agreement.
Representing a financial services group and global investment bank in a class action securities litigation in Texas state court.
Advising a high-net worth, dual national regarding potential investment claim against the Arab Republic of Egypt.
Represented UAE master franchisor against sub-franchisee in ICDR arbitration governed by UAE law.
Represented Bulgaria in two ICSID arbitrations arising under two separate intra-EU BITs and the ECT against electricity companies.*
Successfully represented investor El Paso in ICSID annulment proceedings against Argentina.*
Represented an energy company in connection with a hydrocarbons drainage suit filed in the Southern District of Texas.*
Represented a multinational construction contractor against the owner in ICC arbitration governed by Indonesian law.
Advised a multinational energy company in relation to potential claims against Mexico under NAFTA arising from regulatory measures impeding on investor's rights.
Advised clients (energy companies and sovereigns) as to maritime boundary disputes in Latin America, Africa, and the Middle East.*
Represented Uzbekistan in a number of cases including against Oxus Gold in an UNCITRAL arbitration arising under the UK-Uzbekistan BIT.*
Advised a major global telecommunications company in an ICSID annulment proceeding.
*Matter handled prior to joining Hogan Lovells.