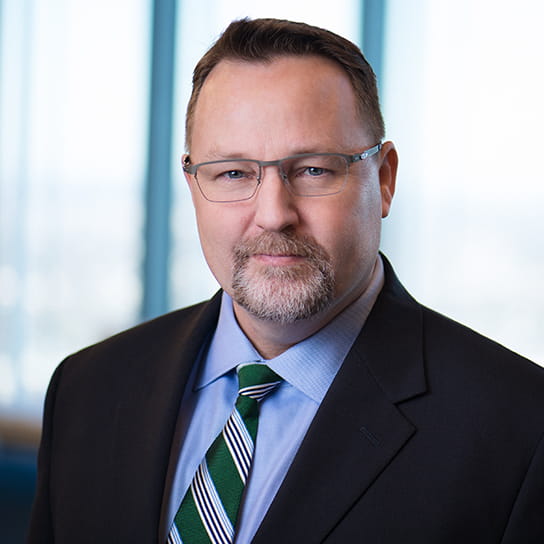 Kevin Keenan advises clients on a variety of energy sector transactions across the globe, with a particular focus on LNG project development, refinery projects (greenfield/brownfield, expansions, and debottlenecking), biodiesel projects, and various other infrastructure projects in the energy sector.
Kevin's understanding and experience in the energy sector is reflected in the variety of clients that turn to him to advise on their toughest legal issues, including large integrated oil and gas companies, joint ventures, state-owned companies, private equity funds and project startups. Kevin's experience in the LNG sector is global, with projects ranging from Papua New Guinea to Qatar to the U.S. Gulf Coast. His experience in the refining space includes assisting clients with refinery expansions and greenfield refinery developments along the U.S. Gulf Coast, in Aruba, and most recently in Central Asia.
In the LNG shipping space, Kevin has been at the forefront of the development of contract structures for the chartering and building of floating storage and regasification units (FSRUs). Over the past 15 years alone, he has helped his clients acquire under long-term charterparties more than 75 conventional LNG carriers and build more than 60 LNG carriers under bespoke shipbuilding contracts with South Korean, Japanese, Chinese, and European shipyards. Kevin was also the lead outside lawyer to a U.S. joint venture among the 10 largest exploration leaseholders in the Gulf of Mexico in connection with the development and deployment of a rapid-response well containment system following the loss of the Deepwater Horizon in 2010. That system remains in place today.
Kevin is frequently listed among the world's premier lawyers in Chambers Global, Chambers USA, Chambers Latin America, Legal 500 USA, Legal 500 Latin America, Expert Guides (The World's Leading Lawyers), and Who's Who Legal. Clients have noted his "personal involvement in projects and ability to demonstrate thorough knowledge of the sector." Clients also add: "He listens, always explains risks, and puts himself in your shoes." Kevin is also the recipient of the ILO Client Choice Award, Shipping (USA) 2010. He has authored numerous articles and has given speeches and workshops around the world on energy transactions, LNG project development, maritime liability, cross-border transactions, securing enforceable guarantees in China, and trends in the oil and gas industry generally.
Awards and recognitions
2018
Energy & Natural Resources (Latin America-wide)
Chambers Global
2018 - 2019
Energy & Natural Resources (Latin America-wide)
Chambers Latin America
Education and admissions
Education
J.D., Georgetown University Law Center, 1996
B.A., Idaho State University, 1993
Bar admissions and qualifications
Texas
Representative experience
Advised a number of Qatari joint ventures in connection with procuring, through long-term time charter, a fleet of 54 LNG carriers worth over US$15bn.*
Advised a U.S./Brazilian joint venture on the development of a greenfield crude oil refining complex on the U.S. Gulf Coast.*
Advised a Santiago-based electric utility on the long-term purchase of LNG for deliveries into the Mejillones LNG import terminal in northern Chile.*
Assisted Petróleos Mexicanos (Pemex) with the consummation of five long-term crude oil sales agreements and refinery upgrades on the U.S. Gulf Coast and in Aruba.*
Advised a U.S. integrated major in connection with an RFP to construct four conventional LNG carriers in China.*
Advised a UAE-based company in connection with the development of a U.S.-built modular crude oil refinery to be engineered and fabricated in Louisiana, shipped to Kazakhstan via China, and assembled/commissioned in Kazakhstan.*
Advised a French energy company in connection with the subcharter of an FSRU, the first floating LNG terminal to be deployed in mainland China.*
Assisted a UK-based biodiesel producer in negotiating feedstock supply, biodiesel tolling, and blending agreements for the production of biodiesel in the U.S. and the collection of U.S. federal blenders' tax credits.*
Advised a U.S. energy company on a time charterparty of a floating production, storage, and offloading vessel (FPSO) in Equatorial Guinea.*
Advised a Korean consortium on the negotiation of agreements to sell natural gas and condensates to PetroVietnam.*
Advised a U.S. energy company on the negotiation of a technology transfer and training agreement in Japan.*
Advised the senior management of a U.S. company in a share repurchase program to reacquire shares from a Jakarta-based multinational investor.*
Advised a Kuwait-based enterprise in purchasing high-sulfur diesel fuel from a supplier on the Black Sea and the transportation to and sale of that fuel in Poland.*
Advised a Russian energy company in connection with taking an assignment of LNG regasification capacity from a Dutch-based integrated major at an LNG import terminal in Mexico.*
Advised a U.S. oil company in negotiations with a Nigerian entity to purchase an interest in a Nigerian oil mining lease.*
Advised a consortium of LNG project sponsors in procuring a fleet of LNG carriers to move LNG from Papua New Guinea to various import terminals in Asia.*
Advised a U.S. utility in connection with voyage charters for the transportation of coal by barge from Colombia to New York.*
Advised a French energy major in connection with an LNG capacity swap at regasification facilities in the U.S. and Belgium.*
*Matter handled prior to joining Hogan Lovells.
Latest thinking and events
Published Works
Shipping Liabilities You Can Limit and Those You Cant
American Bureau of Shipping
01 April 2011