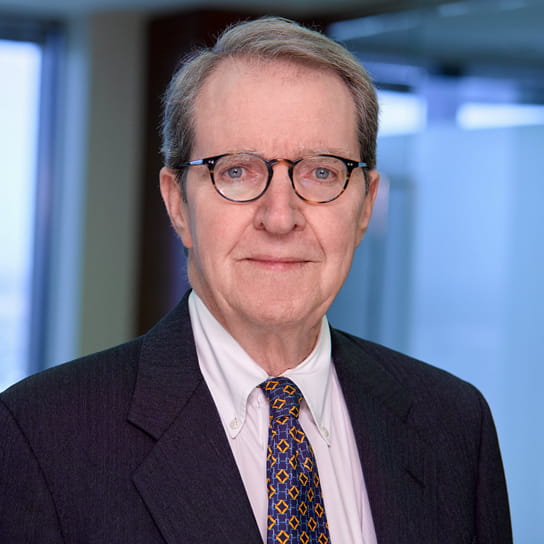 John T. Stough, Jr.
Senior Counsel, Houston
After working with the electric utility and natural gas industries for more than 40 years, John Stough knows a great deal about their federal and state regulatory, commercial, and transactional issues. Clients in both the electric power and natural gas industries seek John's counsel in antitrust matters and in restructuring and redeploying assets to meet the rapidly and constantly changing regulatory and commercial requirements.
John represents clients in proceedings before the Federal Energy Regulatory Commission, U.S. Courts of Appeals, Public Utility Commission of Texas, and regulatory commissions in other states. His clients include electric utilities, lenders, and developers in cases involving merger and asset transaction approvals; rate negotiations and approvals; transmission delivery and interconnection services; transmission system reliability issues; and complaint and investigation proceedings.
John participates in rate, certificate, and complaint proceedings involving natural gas pipelines, shippers, local distribution companies, and industrial customers. He also advises clients on regulatory and commercial issues related to the development and operation of compressed natural gas and liquefied natural gas motor fueling stations.
Before entering law school, John was on active duty in the U.S. Marine Corps and served in Vietnam. He regularly provides pro bono representation for veterans with disability claims before the U.S. Veterans Administration and the U.S. Court of Appeals for Veterans Claims.
John has also worked as a trial lawyer with the Federal Power Commission, where he was involved in electric utility and natural gas pipeline regulatory and appellate court review matters. He served as Chairman of the Energy Bar Association's Independent Power Production, Natural Gas Act Rate and Accounting, and Tax Developments committees. He authored several chapters of the American Gas Association's Treatise on the Regulation of the Gas Industry.
Awards and recognitions
2010-2014
Energy: Electricity
Chambers USA
Education and admissions
Education
J.D., The University of Texas School of Law, with honors, 1974
B.A., Harvard University, 1967
Memberships
Member, American Bar Association
Member, Energy Bar Association
Court admissions
U.S. Court of Appeals, District of Columbia Circuit
U.S. Court of Appeals, 9th Circuit
U.S. Court of Appeals, 10th Circuit
U.S. Supreme Court
Representative experience
Represent client in negotiating and documenting resolution of long-standing disputes between electric utilities.
Represent client in obtaining approval for formula-based rate for timely and expeditious recovery of costs incurred in providing transmission services.
Advise client regarding rate design, cost recovery, and discrimination issues arising from installation of distributed electric generation assets.