John (Jay) Allen Yates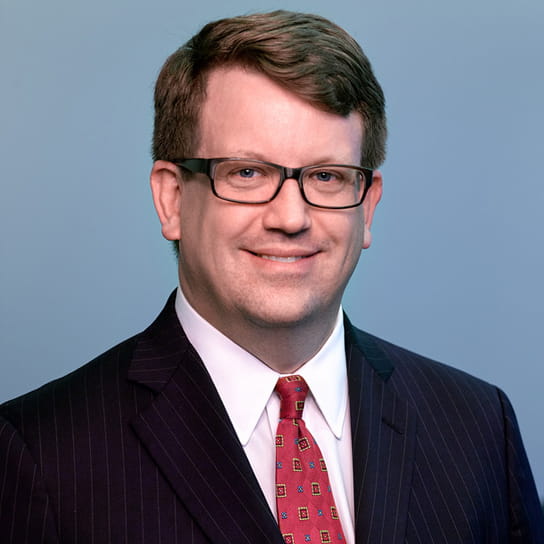 Jay Yates brings a wealth of knowledge and experience to his role, having worked extensively in both patent prosecution and patent litigation during his career.
As an intellectual property litigator with experience representing clients from start-ups to Fortune 500 companies, Jay can take a case from soup-to-nuts and anticipate his clients' needs along the way.
Whether he's serving clients in energy, retail, internet and e-commerce, banking, or software, Jay diligently focuses on evolving intellectual property laws, helping clients solve a range of cutting-edge challenges.
Jay's prior experience as a patent prosecutor makes him a strategic asset in his clients' arsenals. Jay worked on a variety of matters from complex computer algorithms to simple mechanical devices. He was also devoted to securing trademarks, licensing intellectual property, and performing and coordinating due diligence review for mergers, acquisition, and investment transactions.
Previously, Jay was general counsel for State Senator Dan Patrick. During law school, he worked as a legislative aide for State Representative Joe Crabb, as a committee clerk for the Texas House Committee on Redistricting, and as a law clerk for the Texas Attorney General Office of Special Investigations.
Prior to law school, Jay was a product marketing manager and engineer for more than eight years, contributing to the success of a Silicon Valley technology company from start-up to profitability. This experience gave Jay a deep understanding and appreciation of his clients' business needs.
Representative Experience
Represented Westlake Chemical Corporation in jury verdict of non-infringement against multimillion-dollar patent infringement claims involving polyethylene manufacturing methods.*
Represented Google Inc., TMobile USA, and Cellco Partnership d/b/a Verizon Wireless against claims of patent infringement, including arguing at the Markman hearing.*
Represented Overstock.com, Inc. against claims of patent infringement, including arguing at the Markman hearing, resulting in a jury verdict of non-infringement.*
Represented UTC Aerospace Systems in an arbitration involving claims of ownership of technology and trade secret misappropriation.*
Represented Baker Hughes Incorporated in various lawsuits involving patents and trade secrets.*
Represented First National Bank Texas, Woodforest National Bank, and Prosperity Bancshares, Inc. in various lawsuits involving claims of patent infringement.*
*Matter handled prior to joining Hogan Lovells.
Latest thinking and events