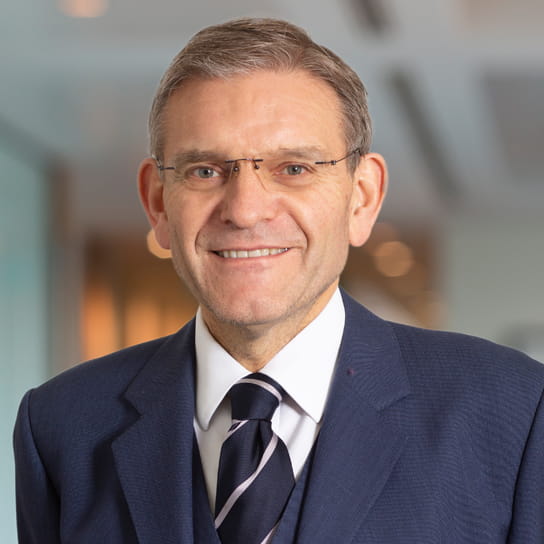 'Department head Joe Bannister is 'a star, with a great sense of humour when the going gets tough''. Insurance Restructuring and Insolvency

Legal 500 2015
Joe Bannister is a seasoned, international, restructuring and insolvency lawyer. For nearly 30 years, Joe has helped the entire range of restructuring stakeholders to address and resolve the most difficult restructurings and insolvencies.
He has experience across all industry sectors, ranging from manufacturing and transportation to the services sector and he has dealt with cases in the UK, Europe, Asia and the US. Joe's work also includes a number of reorganizations or bankruptcies in the financial institutions sector, especially insurers and banks.
His international assignments have encompassed a number of offshore jurisdictions, including Bermuda, the BVI, Cayman Islands, Cyprus, Mauritius and the Isle of Man. Joe focuses on the development and implementation of schemes of arrangement and other creditor compromise processes, both in the UK and in Hong Kong.
Joe has worked at Hogan Lovells and its predecessor firms for his entire career, beginning in 1985. He was elected to the partnership in 1997. Joe is admitted as a solicitor in London and Hong Kong, where he worked between 1998 and 2002 and again in 2014 and 2015 as the partner in charge of the firm's business restructuring and insolvency practice in Hong Kong and China.
Joe has written and spoken extensively on industry and technical matters. Between 2012 and 2014, he was co-editor of INSOL World and writes regularly for industry and legal publications in the restructuring field. He is a regular speaker at external and internal conferences and is widely recognised as a leading practitioner in directories such as Chambers and Legal 500.
Awards and recognitions
2021
Global Leader, Recommended, Insurance & Reinsurance
Who's Who Legal
2021
Global Leader, Recommended, Restructuring & Insolvency
Who's Who Legal
2020
Thought Leaders, Insurance & Reinsurance
Who's Who Legal
2015
Leading individual, insurance restructuring and insolvency
Legal 500
Education and admissions
Education
M.A., Magdalene College, Cambridge, 1988
B.A., Magdalene College, Cambridge, 1984
Memberships
Associate member of R3 (the Association of Business Recovery Professionals)
Full member of the ILA
Member of INSOL International
Representative experience
African Export-Import Bank on the restructuring of Smile Telecoms through a restructuring plan under part 26A Companies Act 2006, the first plan proposed in relation to a pan African corporate group.
Norwegian Air Shuttle ASA in connection with its cross-border financial restructuring including the restructuring of its leases, provision of additional funding and management of its UK operations.
A major motor manufacturer as a creditor of various distressed suppliers; the Liberty and Amtek Groups, JVM Castings, Collins & Aikman, Visteon Group Schefenacker and others.
A major international bank on the workout and recovery of a US$3.5 billion facility owed by an international energy and steel group in Hong Kong, Singapore, London and India.
Hotter Shoes on the formulation and implementation of a company voluntary arrangement and the administrators in a number of prepackaged retail situations.
The pension fund trustees of Nortel Networks UK Ltd. in their claims for financial support directions in the UK, U.S., EMEA, and Canada.
Ataer Holdings, the Turkish military pension fund, one of the bidders to the British Steel Group on the purchase of the group, including negotiations with Government in relation to possible support.
Bankruptcy proofing and contingency planning advice on numerous structured finance transactions, including clearing house arrangements and securitisation structures across various industries.
The Icelandic Government in relation to the Icelandic financial crisis including on the reorganizations of Iceland's three principal banks.
UK counsel to the provisional liquidators of Kaupthing Singer & Friedlander (Isle of Man) Limited advising on a proposed Isle of Man scheme of arrangement
A creditor on the protection of its rights in relation to the LDK Solar group schemes of arrangement, in both Hong Kong and Cayman.
Acting for a major Asian and international bank in investigation and recovery proceedings relating to the Hong Kong and BVI assets of a high profile Taiwanese national.
Acting for a major Asian international bank in relation to its exposures both to an Indonesian mining group and the Essar Group, at the time the largest single exposure of that bank.
UK counsel to the Official Committee (the "Committee") of Asbestos Creditors in the formulation of company voluntary arrangements ("CVAs") for Turner & Newall Limited) ("T&N") and its subsidiaries.
Various financial creditors on its position as counterparty to Lehman Brothers' entities.