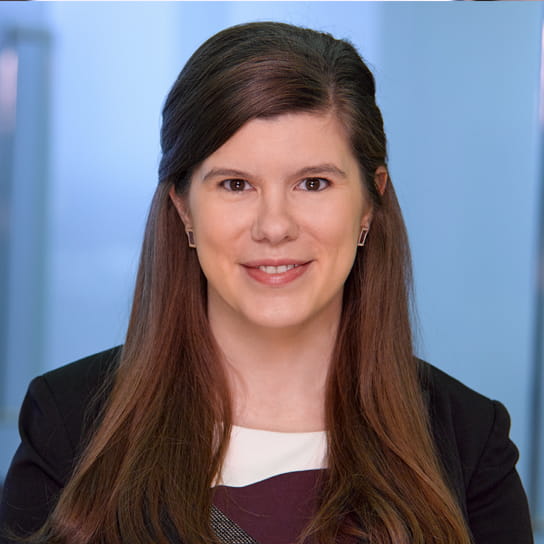 Jennifer Fleury is an experienced trial lawyer who focuses on antitrust litigation, regulatory proceedings, and government investigations. She has tried cases to verdict in state and federal court, and has represented clients before arbitral panels and administrative law judges.
In those trials, she has gained hands-on experience beyond her years by taking and cross examining witnesses, arguing motions before the bench, and managing cross-office teams of associates. She also counsels clients on complex legal and regulatory issues ranging from antitrust compliance to securities regulations.
Jennifer has worked with clients in many industries, including private equity, technology, insurance, banking, media, and nonprofit. She also regularly represents energy companies, including energy infrastructure contractors, oil operators, and major oilfield services providers.
Before joining Hogan Lovells, Jennifer practiced litigation at another international law firm and served as a law clerk to the Honorable Judge Raymond P. Moore of the U.S. District Court for the District of Colorado. While in law school, she gained valuable experience as an intern at the Department of Justice in the Antitrust Division.
Education and admissions
Education
J.D., Harvard Law School, 2011
M.Ed., The City College of New York, with honors, 2007
B.A., Bard College, summa cum laude, 2005
Bar admissions and qualifications
District of Columbia
Texas
New York
Representative experience
Secured a US$17m verdict for pharmaceutical technology company after three-week trial in federal court involving intellectual property and breach of contract claims.
Represented midstream gas processing company in fast-track arbitration over breach of contract dispute.
Trial counsel for technology company in suit against Washington Department of Insurance.
Representing owner of natural gas pipeline in dispute with end users over the terms of long-term contracts for transportation.
Advised large public company on antitrust compliance issues related to a merger with another large public company.*
Defense of energy contractor in 10b-5 suit and related derivative suit.
Represented oil operator in a lease interpretation dispute.*
Defense of oil field services company in 10b-5 suit.*
Represented investor in a dispute over equity shares in limited liability company.*
Represented regional insurance company against third-party personal injury and property damage claims.*
Represented major insurance company in an insurance coverage dispute with other insurers involving underlying asbestos claims.*
Represented an international nonprofit in a series of trademark disputes.*
Served on trial team defending corporation against alleged breach of executive employment contracts.*
Prepared company for hearing in front of the Federal Trade Commission on copyright, trademark, and antitrust issues.
Represented broker-dealer in series of FINRA arbitrations against allegations of breach of fiduciary duties.
Served on defense team in antitrust class action alleging collusion by major private equity firms in leveraged buyouts and related transactions.
*Matter handled prior to joining Hogan Lovells.