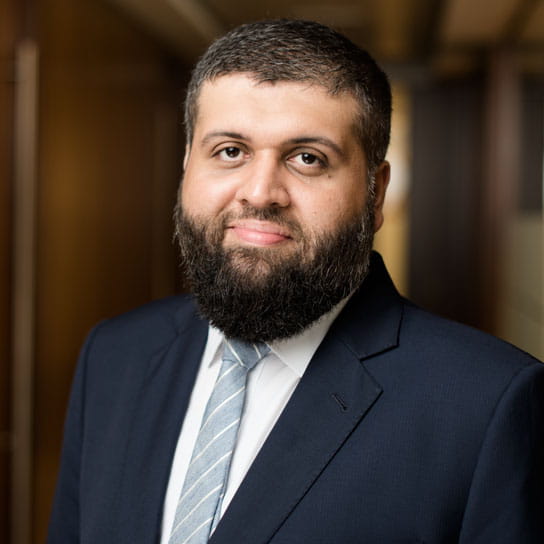 Irfan Butt
Counsel, Dubai
Fluent in Arabic and with over twelve years' experience in Saudi Arabia, Irfan is a corporate, commercial practitioner, specialising in government regulatory, mergers and acquisitions, joint ventures, employment and general corporate advisory. He has expertise in advising on all forms of applications to Government regulators including the Saudi Arabian General Investment Authority and advising major corporates on all aspects of doing business in Saudi Arabia. Admitted in 2000, Irfan spent his formative years as a Barrister at the Inner Temple in London with a mixed practice including commercial judicial review, employment and civil litigation.
Education and admissions
Education
PgD, Umm Al Qurra University, Makkah, 2005
B.V.C., The Inns of Court School of law, 2000
LL.B., The University of Reading, 1999
Memberships
The General Council of the Bar
Bar admissions and qualifications
England and Wales
Court admissions
Senior Courts of England and Wales
Representative experience
Advising the medical services division of one of Saudi Arabia's largest corporations on the regulatory aspects of a joint venture with a foreign partner.
Advising SEDCO Holdings in relation to its acquisition of a stake in a leading clothes retailer.
Acted for Alstom in relation to the disposal of its Saudi subsidiaries to GE and the associated anti-trust and investment filings.
Advising leading Automotive manufacturers such as Ford Motor Company in relation to the Commercial Agencies law and general corporate advisory.
Advising leading pharmaceutical companies such as Actavis, Reckitt Benckiser and Aegerion in relation to SFDA regulations and advice under the Commercial Agencies law.
Advising a leading multinational manufacturer of cranes and heavy equipment in relation to a share exchange agreement and necessary local law compliance issues.
Acted for Mitsubishi Corporation in relation to corporate structuring for its subsidiaries and the incorporation of a new EPC joint venture.
Advising leading rail consultancy firms, RENFE and Iberdrola in relation to the Government Procurement Law and general corporate and employment matters.
Advising QInvest on its proposed acquisition by joint venture of a 60% stake in EFG Hermes' investment banking, asset management, and brokerage business.
Advising Ciena Communications in relation to the restructuring of their operations in Saudi Arabia, including corporate, commercial and employment matters.
Advising leading technology multinationals such as Teradata Corporation on their import and distribution of products and services.
Advised Yale University, Columbia University, George Washington University, University of Leicester, and other institutions on JV agreements and regulatory and corporate advisory issues in Saudi Arabia.
Latest thinking and events
Published Works
Saudi's Stock Exchange: open for business
September 2014
Published Works
The jewel of the G.C.C. equity market – Saudi Arabian stock market to open for foreign investment
September 2014
Published Works
Arabian Enterprise (A brief history on the evolution of the Saudi Arabian General Investment Authority)
September 2012
Published Works
New Head of Saudi Investment Agency Reviewing Rules with Eye to Boosting Jobs (Interviewed with regards to the expected reforms at SAGIA)
August 2012
Published Works
Opening up: An exclusive article with analysis of the Saudi primary and secondary markets
July 2012
Published Works
New Saudi regulator's foreign investment crackdown (Interviewed with regards to the suspension of applications at SAGIA and the likely changes expected to take place)
July 2012