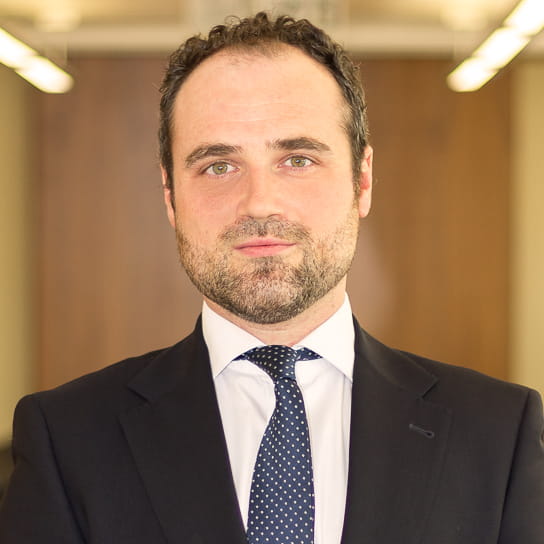 Victor Horcajuelo
Senior AssociateMadrid
Victor Horcajuelo is a highly experienced regulatory lawyer and focuses on the following sectors: infrastructure and public services, environment, tourism, and transport and mobility.
Víctor has a deep knowledge of the "collaborative economy" in the areas of tourism, transport and food delivery, being the legal advisor of one of the most relevant platforms of tourist rentals in Spain.
He renders a valuable service regarding any issue connected to public procurement or to any contingency which may arise during the performance of a public contract. Víctor provides legal advice in PPP projects, both in Spain and in foreign jurisdictions.
In the environmental sector, he has advised in many different areas, such as contaminated soils, environmental authorizations, construction of renewal power plants, drafting of new regulations, etc.
When advising his clients, he is always aware of the business context and of the client's particular needs, so that he is able to find a tailored solution to each case.
Víctor is a professor of the Masters' in Law Practice, Universidad Autónoma de Madrid.
He has also published articles in law journals and books.
Recommended Lawyer for Administrative Law - Best Lawyers
Awards and recognitions
2019
Recommended Lawyer in Administrative Law
Best Lawyers
Education and admissions
Education
Executive Program on PPP projects, IE Business School, Madrid, 2011
Degree in Law, Universidad Carlos III de Madrid, 2005
Representative experience
Legal advice to some of the most relevant players of the waste management industry, including both Integrated Waste Management Systems and waste management companies.
Legal advice to industrial companies in environmental issues: contaminated soil, environmental liability, Pollution Prevention and Control (IPPC), etc.

Legal advice to one of the largest platforms of the collaborative economy in the tourist sector, including the assistance in administrative proceedings and the defence in Court.
Legal advice to some of the most relevant players of the collaborative economy in the sectors of tourism, food delivery and transport.

Legal defense in court, including the Supreme Court, in cases related to, environment, urban planning, public procurement, infrastructure, tourism, transport, etc.
Legal defence of bidders challenging administrative decisions awarding public contracts.
Legal assistance to Spanish authorities (national, regional and municipal) on the drafting of the terms to award all kind of public contracts.
Legal advice to some of the most relevant companies of the infrastructure sector (highways, railway airports, health centres, sport centres, etc.).

Legal advice in M&A and finance transactions with a significant regulatory component: those which involve PPP contracts, industrial factories, mines, etc.
Legal advice on the drafting of claims for reestablishment of economic balance of PPP contracts (highways, public parking lots, public service concessions, etc.).
Legal advice to a newly incorporated Concessionaire of a Spanish highway regarding any issue arisen during the designing and the construction phases (more than 2 years).
Legal advice to a company which runs sports centres under public concession contracts.
Legal advice to Latin American governments on the design and drafting of the terms of public PPP contracts (highways, Telecommunication infrastructures, etc.).
Legal advice to an International Scientific Consortium in the process to obtain all the permits needed to construct and operate a Telescope in the Canary Islands.
Legal advice in urban planning and public properties issues: administrative concessions for the use of public lands, municipal licenses, etc.