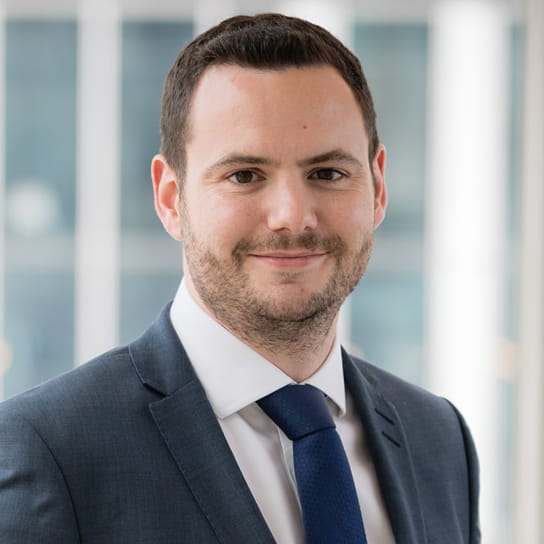 James Hewer is a counsel in our Business Restructuring and Insolvency team in Australia. James brings several years' extensive experience, acquired in both London and Australia, in delivering work-out strategies to financiers and other investors in relation to international and domestic lending exposures and investments in distressed businesses.
James assists banks, funds, specialist financiers, other lending institutions, creditors and insolvency practitioners across a variety of secured and unsecured exposures, both in relation to work-outs and turnarounds, and in relation to formal insolvency processes such as liquidation, receivership and voluntary administration. James also guides our corporate clients in navigating their statutory duties during times of financial difficulty. James has particular in-depth knowledge in relation to the Personal Property Securities Act 2009, particularly in its application to insolvencies, enforcement action and structuring of turnaround transactions.
James is a professional member of the Australian Restructuring Insolvency and Turnaround Association, having achieved the highest rank in the Advanced Certificate in Insolvency course in New South Wales for 2014.
James spent the first seven years of his career working in an international law firm in London, which enabled him to expand his knowledge and experience of complex, cross-border restructurings and insolvencies.
Awards and recognitions
2014
Ranked 1st in NSW and 2nd nationally for academic achievement
ARITA Advanced Certificate in Insolvency
Education and admissions
Education
Legal Practice Course, University of Nottingham, 2005
Bachelor of Laws, University of Nottingham, 2003
Memberships
Australian Restructuring Insolvency and Turnaround Association (ARITA)
Law Society of New South Wales
Court admissions
Supreme Court of England and Wales
Supreme Court of New South Wales
Representative experience
Advising the administrators of Wolf Minerals Limited on the recapitalisation and sale of the company's ASX-listed shell by way of deed of company arrangement.
Advising Bank of New York Mellon on its role as bond and security trustee on the refinancing of A$2.2bn debt issued by Reliance Rail.
Advising Standard Chartered Bank on the restructuring of its debt and equity exposure to Aeris Resources Limited, an ASX-listed mining and exploration company.
Advising an asset preservation and decommissioning business in relation to the restructuring of its short-term convertible note debt by way of debt-for-equity swap.
Advising Mattel on its exposure to Toys "R" Us Australia Pty Ltd, including securing a significant recovery of Mattel's trade debt under the PPSA.
Advising an ASX-listed mining services company on the restructuring and re-acquisition of one of its key strategic assets out of receivership and voluntary administration.
Advising an ASX-listed mining services company on a members' scheme of arrangement to achieve full acquisition of the issued share capital by the majority shareholder.
Assisting an overseas importer on the insolvency of its Australian distributor, including enforcement of ROT provisions against the insolvent debtor's accounts receivables under the PPSA.
Advising a UK financial institution on a £250m exposure to an offshore property investment and management limited partnership, including restructuring of the facilities.
Advising a UK financial institution and their appointed administrators on the "pre-pack" disposal of a car park and petrol station business.