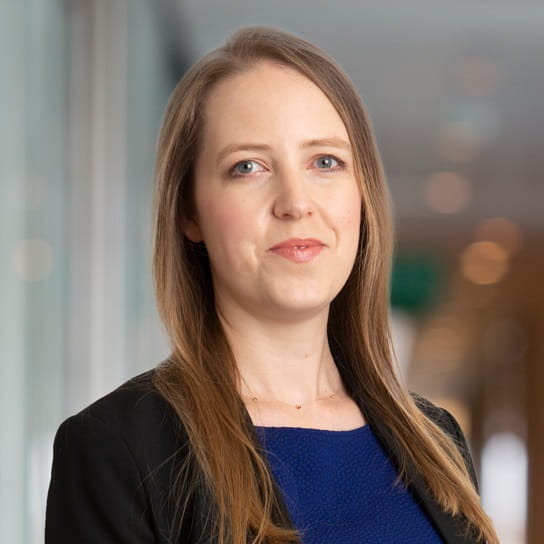 Gwen Edwards
Senior AssociateLondon
As a senior associate in our Finance group, Gwen Edwards focuses her practice at Hogan Lovells on asset finance and has particular knowledge of aircraft debt finance and leasing.
She advises banks, operating lessors, borrowers, airlines, rail and shipping companies, and private equity firms across a broad range of cross-border asset finance transactions, including portfolio migrations, asset disposals, lease and loan financings, sale and leaseback transactions, export credit, and PDP facilities. She also has experience across other general banking work, tax-based structured finance and restructuring.
In 2013, Gwen spent nine months on secondment to GE Capital UK supporting their corporate aircraft business as well as other lending products, such as commercial distribution finance.
Representative experience
Acting for a European low-cost airline in respect of several UKEF-backed financings, including the first ever UKEF JOLCO financing in respect of 3 B787-9 aircraft.
Acting for a German bank's equity fund in respect of the purchase of vintage aircraft for tear-down and part-out.
Advising GE Capital on various corporate aircraft restructurings, leases and sales.
Advising a Swiss bank on multiple loan and lease financings of corporate aircraft, including enforcement and repossession matters.
Acting for the lessor on the new Caledonian Sleeper rolling stock procurement.
Acting for a low-cost airline on a long term U.S. Exim Bank supported PDP financing of several aircraft and on several refinancing and sale/leaseback transactions.
Advising the Irish leasing arm of a UK bank in relation to commercial aircraft sale and lease novations and 8 new operating leases to a low cost Indian airline.
Advising a Middle-Eastern bank on a loan financing of two A320 vintage aircraft on lease to a Middle Eastern airline.
Advising a U.S. bank lessor on a refinancing of an aircraft leased to an Asian national airline and operating leases for 3 new A350 aircraft for a Middle Eastern carrier.