Géraldine Marteau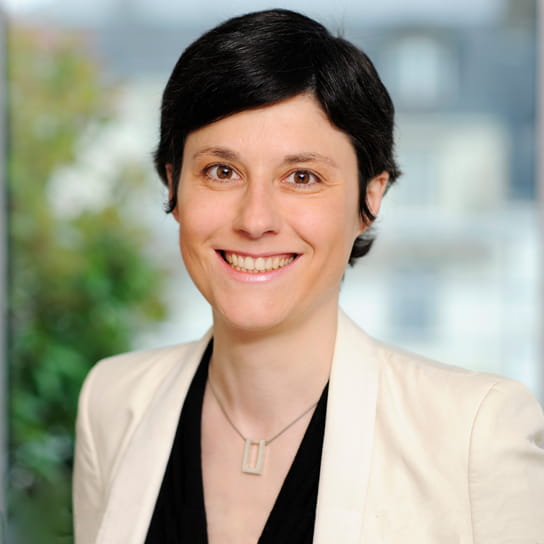 Languages
English, French, Russian
Of counsel Géraldine Marteau focuses on financial services litigation. She advises on the handling of pre-litigation and litigation cases on behalf of financial and banking institutions in the following fields: portfolio and asset management, funds distribution, swaps litigation and enforcement measures. She represents these clients before the enforcement committees of the AMF and of the ACPR, as well. Géraldine has also developed knowledge and skill in the field of international sanctions working for financial institutions in French companies.
In addition, for approximately two years Géraldine was on a part-time secondment, working for a major French asset management company. Before qualifying as a lawyer, Géraldine worked in Russia (Moscow) for one year, teaching to Russian students at the law faculty of the Higher School of Economics.
She also acquired experience working for an Anglo-Saxon law firm. Géraldine graduated with honours from Paris X Nanterre University in 2001. She holds a Master's degree in international trade law and a Master's degree with a double major in French business law and Russian law. In November 2007, Géraldine received a Certificate of Training for Accredited Mediator from the London School of Mediation.
Representative Experience
Successfully defended a portfolio management company suspected of insider dealing before the AMF enforcement committee.
Defended a major international bank regarding lawsuit initiated by a social housing company alleging the bank improperly sold it a swap causing millions of losses.
Successfully defended a French subsidiary of an African banking group before the ACPR enforcement committee, as a result of several breaches of French banking regulation.
Successfully assisted a Russian group regarding massive fraud carried out by several individuals and companies amounting to U.S.$173m and subsequent money laundering activities.
Regular assistance of French companies and financial institutions in the context of the EU financial sanctions against Russia in relation to the situation in Ukraine/Crimea.