George Jenkins
Senior Associate
London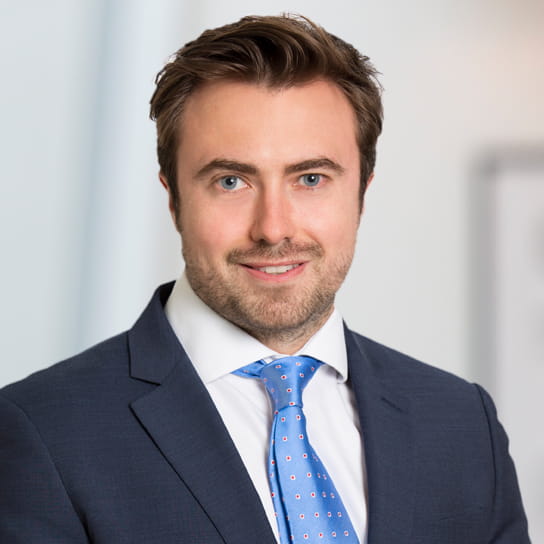 As a senior associate concentrating on regulatory and commercial law, George Jenkins has extensive experience in assisting clients to commercialise and bring their products to market in the EU and in negotiating their strategic commercial agreements throughout the supply chain. George's work covers a range of industries, with a particular focus on pharmaceuticals, medical devices, cosmetics, food and consumer goods.
George's regulatory experience includes advising on regulatory approvals and licensing requirements to enable clients to market and sell their products in the EU, innovative and compliant distribution structures, product composition, product packaging and labelling, promotional and marketing campaigns, product safety, and helping clients find solutions to other regulatory challenges they face.
George also regularly advises clients on their contracting and commercial structures. He assists clients in drafting and negotiating a wide range of day-to-day and strategic commercial arrangements throughout the supply chain including agreements for the supply of goods and services, procurement, outsourcing, franchising, distribution, and agency agreements.
George has experience of working on cross border matters and with other jurisdictions, including spending six months working in the corporate and commercial department of Hogan Lovells' Dubai office. He has also spent time in the in-house legal teams of a number of clients, gaining valuable experience of the specific needs of clients in different industries.
Representative experience
Advising Mars on a variety of commercial agreements and a wide range of regulatory, labelling, compositional, advertising and commercial issues.
Advising Johnson & Johnson on variety of consumer terms and conditions, sales promotions, marketing campaigns and copy clearance.
Advising on the commercial agreements and regulatory aspects of Bestway Group's £620m acquisition of the Co-operative Group's pharmacy business.
Secondment to Honeywell's European commercial contract team and to Vodafone's Northern Europe Enterprise commercial contract team.
Advising a major U.S. pharmaceutical company on its EU expansion, including on commercial structures and licensing requirements.
Advised various electronics manufacturers and technology providers on UK/EU export control issues.
Latest thinking and events