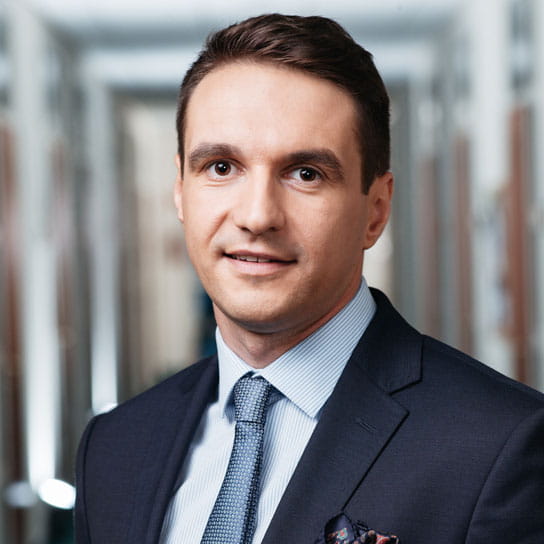 Dr. Maciej Gac joined the Competition Law practice at the Hogan Lovells Warsaw Office in August 2017. Prior to joining Hogan Lovells he worked for several Polish and international law firms, and in the legal departments of various international companies.
He has a particular focus in Polish and EU competition law, as well as consumer law and private international law. His experience includes providing comprehensive advice on antitrust law, consumer law, and the law of the internal market of the European Union. He provides advice to clients on issues such as establishing distribution models, concluding commercial agreements, and undertaking joint initiatives between companies (e.g. establishing joint ventures). He also supports clients within their current business operations (assessment of undertaken activities from the perspective of competition and consumer law), and represents their interests in proceedings before the competition and regulatory authorities. He has extensive experience in developing compliance programmes for companies, and the implementation of compliance policies with competition law. His professional interests include the cross-border provision of services, and collective dispute resolution.
Maciej is also active in research and didactic work, both in Poland and abroad. He is a lecturer of Postgraduate Studies of Competition Law at the Polish Academy of Science, the author of many scientific publications in the fields of European and competition law, and a member of the Competition Law Association.
Maciej is a graduate of the Faculty of Law and Administration of the Jagiellonian University, and of the Faculty of Law of the University of Toulouse. In September 2016, he defended his doctoral thesis (with honours) on the private enforcement of Competition Law. The thesis was prepared within the framework of international cooperation between the Jagiellonian University and the University of Toulouse.
Education and admissions
Education
Ph.D., Jagiellonian University and University of Toulouse jointly, 2016
MA International and Comparative Law, University of Toulouse, 2011
M.A., Jagiellonian University in Kraków, 2010
Representative experience
Providing advice to the largest distributor of furniture in Poland on the assessment of its market position and implementation of Competition Law compliance programme.*
Providing advice to one of the world-wide leaders in the IT sector on the establishment of an electronic sales platform.*
Providing advice to pharmaceutical companies on the establishment of a distribution model for pharmaceutical products.*
Providing advice to a leading cash and carry chain on its commercial cooperation with a chain of hyper and supermarkets (joint purchasing agreement).*
Conducted a complex legal audit of the agreements concluded by the largest Polish passenger rail transport operator.*
*Matter handled prior to joining Hogan Lovells.