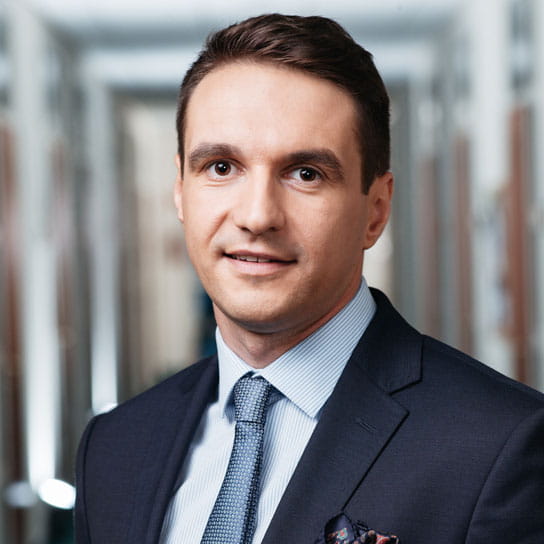 Dr. Maciej Gac
AssociateWarsaw
Dr Maciej Gac has a particular focus on Polish and EU competition law, consumer law, State Aid law, product law and unfair competition.
His experience includes providing comprehensive advice to clients on issues such as establishing distribution models, concluding commercial agreements, and undertaking joint initiatives between companies (e.g. establishing joint ventures). He also supports clients within their current business operations (assessment of undertaken activities from the perspective of competition, consumer and product law), and represents their interests in proceedings before the competition and regulatory authorities. He has extensive experience in developing compliance programmes for companies, and the implementation of compliance policies with competition law. His professional interests include the private enforcement of competition law, and collective dispute resolution.
Dr Maciej Gac is also active in research and didactic work, both in Poland and abroad. He is a lecturer of Postgraduate Studies of Competition Law at the Polish Academy of Science, and the author of many scientific publications in the fields of European and competition law.
Dr Maciej Gac is a graduate of the Faculty of Law and Administration of the Jagiellonian University, and of the Faculty of Law of the University of Toulouse. In September 2016, he defended his doctoral thesis (with honours) on the private enforcement of Competition Law. The thesis was prepared within the framework of international cooperation between the Jagiellonian University and the University of Toulouse.
Education and admissions
Education
Ph.D., Jagiellonian University, 2016
Ph.D., University of Toulouse, 2016
MA International and Comparative Law, University of Toulouse, 2011
M.A., Jagiellonian University, 2010
Memberships
Polish Competition Law Association
International Bar Association Antitrust Committee
Bar admissions and qualifications
Warsaw Bar Association (Advocate)
Representative experience
Providing advice to the largest distributor of furniture in Poland on the assessment of its market position and implementation of Competition Law compliance programme.*
Providing advice to one of the world-wide leaders in the IT sector on the establishment of an electronic sales platform.*
Providing advice to a leading cash and carry chain on its commercial cooperation with a chain of hyper and supermarkets (joint purchasing agreement).
Providing advice to two large Polish insurance companies on the possible scope of co-operation within the co-insurance agreement.
Representing Covis Pharma, a global pharmaceutical company, in Polish merger proceedings regarding a $371m acquisition of rights to three of AstraZeneca's products.
Representing Marvell, a global semiconductor solutions provider, in merger proceedings in a US$ 6.1 billion acquisition of its rival, Cavium Inc.
Representing Quadriga Capital Private Equity Fund IV L.P. in Polish merger proceedings regarding its acquisition of sole control in LR Global Holding GmbH (health and beauty).
Representing Windar, Severstal and Rusnano in the Polish merger proceedings regarding the establishment of a joint venture active in manufacturing wind towers.
Representing Kapsch and Axxès in Polish merger proceedings regarding the establishment of a joint venture active in the provision of European Electronic Tolling Services.
Advising on state aid issues related to the construction of a parking lot in one municipality in Poland.
Advising Polish financial institution in the proceedings before Polish Competition Auhtority and CJEU regarding refusal to reimburse certain costs of consumer credit.
Representing clients from various sectors in administrative proceedings concerning product safety issues related to their products.
Conducted a complex legal audit of the agreements concluded by the largest Polish passenger rail transport operator.*
Advising various clients on commercial policy including distribution system, marketing activities, and rebate schemes, supporting negotiations and drafting agreements.
Advising one of the largest manufacturers of VR equipment with respect to the introduction of its products onto the Polish market.
Advising various companies from electronics and clothing sector on the Polish law requirements regarding products labelling.
*Matter handled prior to joining Hogan Lovells.