Brenna K. Finn
Senior Associate
Denver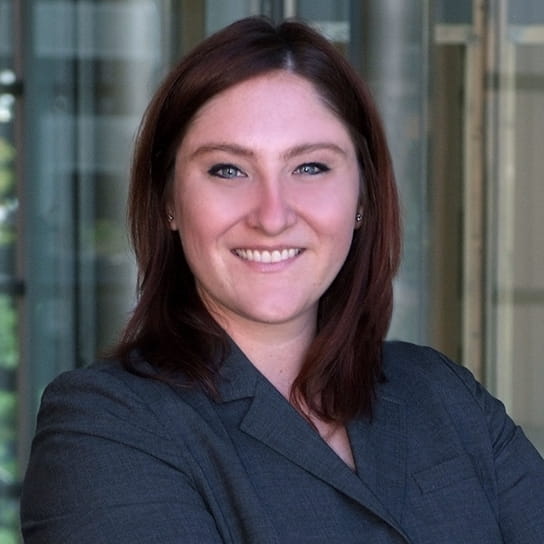 Practice Group
Regulatory
Brenna Finn cleans up messes. Operating at the leading edge of environmental health and safety regulation, Brenna's stringent attention to detail helps clients identify potential risks and avoid hazardous pitfalls.
With a practice focused on environmental challenges, Brenna helps clients keep their business operations tidy and facilitates their continued pathway towards commercial success. Her dexterity for working alongside clients in highly regulated industries, such as oil and gas, petrochemical, and renewable energy, includes advising on regulation of pesticides, ensuring compliance with the Toxic Substances Control Act (TSCA), anticipating and responding to Occupational Safety and Health Administration (OSHA) issues, and guiding on Comprehensive Environmental Response, Compensation, and Liability Act (CERCLA) compliance associated with the revitalization of contaminated sites.
Prior to joining Hogan Lovells, Brenna was an associate in the natural resources and environmental group of another law firm in Denver. In addition to her private practice background, Brenna also has key policy and political know-how, gained from her time as an associate at a law firm based in Washington, D.C., and as a law clerk in the Environmental Torts Section of the U.S. Department of Justice.
While attending law school, Brenna served as a Dean's Fellow in the Legal Writing and Research Department and was published in the Journal of Gender, Social Policy, and the Law. She is also actively involved with the Women's Foundation of Colorado, the Center for Legal Inclusiveness, and the American Diabetes Association.
Representative Experience
Negotiated settlements between the EPA and a high-volume refinery related to product specifications, fuel testing, and sampling requirements, and compliance with the renewable fuels standard.*
Responded to information requests under the CAA, CWA, and OSH Act, successfully protecting clients' interests, including confidential business information and privacy interests.*
Advised refineries and natural gas companies on compliance with Process Safety Management and Risk Management Plan requirements, including oversight of audits of the same.*
Identified and assessed compliance with Pipeline and Hazardous Materials Safety Administration requirements applicable to hazardous liquid and gas pipeline safety and operations.*
Represented a vehicle manufacturer in a products liability lawsuit, successfully settling the case before trial.*
Responded to a subpoena issued to a national retailer, including engaging with EPA to narrow the scope of the subpoena and related document production.*
Negotiated with OSHA to reduce the penalty and classification of violations following an inspection at an oil and natural gas production facility in Colorado.*
Coordinated with federal and state regulators to voluntarily self-disclose noncompliance with air quality and refined fuels regulatory requirements.*
Represented various mining clients in CERCLA negotiations related to remedial investigations, feasibility studies, and removal actions at complex sites on public and private lands.*
Engaged with consultants and local governments to facilitate remediation of contaminated sites, including revising remediation plans and drafting access, indemnification, and remediation agreements.*
Guided developers and investors through permitting and other regulatory matters during the course of property acquisition and project development for a Colorado wind farm.*
Obtained a favorable settlement with EPA for a small business engaged in the distribution, sale, and marketing of an unregistered pesticide product.*
Analyzed the eligibility of claims that certain chemical substances were exempt from listing on the TSCA Chemical Substance Inventory pursuant to various statutory exemptions.*
Contested land use plans and environmental impact statements under the APA, NEPA, and FLPMA for mining/ranching clients negatively impacted by sage-grouse management measures.*
Conducted source aggregation analyses for midstream natural gas clients challenging governmental decisions to aggregate certain emissions associated with operation of pipelines and related equipment.*
Worked with a biotechnology client to draft/submit a Microbial Commercial Activity Notice under TSCA for microorganisms intended for use in development of alternative fuels.*
Reviewed a product portfolio for an international chemical manufacturer and distributor to audit compliance with TSCA's requirements for new and existing chemicals.*
Coordinated multi-state registration and/or licensing of various agricultural pesticides and applicators, including restricted use pesticides.*
Represented trade organizations and rodenticide manufacturers challenging rulemakings intended to limit the use of rodenticides in the United States.*
Advised a real estate redevelopment company and its consultant on compliance with asbestos management and disposal requirements during demolition and renovation projects in Colorado.*
*Matter handled prior to joining Hogan Lovells.
Latest thinking and events
Hogan Lovells Publications
Energy Alert
Hogan Lovells Publications
Energy Alert