Erin J. Howell
Senior Associate
New York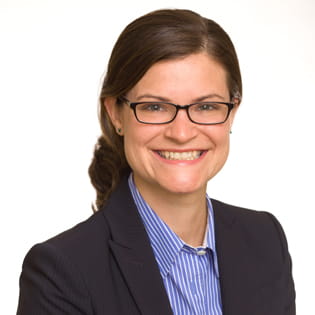 Erin Howell knows that a valuable adviser needs both breadth and depth of knowledge. That's her key to advising clients across a broad range of industries on their most important corporate transactions, while maintaining a particular focus on clients within the insurance industry. From life sciences to life insurance, Erin has counseled clients on a variety of business, corporate and regulatory matters.
Erin focuses on U.S. and international mergers and acquisitions, stock and asset purchase and sale transactions, and internal reorganizations for clients in industries as varied as pharmaceuticals and life sciences, textiles, transportation, and health services. Within the insurance industry, she brings nearly a decade of experience dealing with complex reinsurance, transactional and regulatory matters, including M&A, purchase and sale of renewal rights and blocks of business, shell acquisitions, and regulatory issues for insurance underwriters, producers, and reinsurers.
Representative experience
Representation of a Bermuda-based reinsurance company in acquiring U.S. insurance companies.
Representation of an international pharmaceutical company in acquisition of key intellectual property assets.
Representation of a global transportation company in a strategic investment in a small business.
Regular representation of international property/casualty insurer in preparation of Holding Company Act filings.
Representation of publicly held insurer in divesting non-core insurance business.
2010
Legal Aid Society Recognition Award